Students Study Regional Differences in Deposition: Glaciation and Catastrophism in Whidbey Island, Channeled Scablands, and Willapa Bay, WA.
The Modern Depositional Systems field course taught by Dr. Julia Wellner provided the opportunity for 13 graduate students and one undergraduate student from the University of Houston Department of Earth and Atmospheric Sciences (EAS) to visit a variety of geologic locales, structures, and depositional environments throughout Washington state.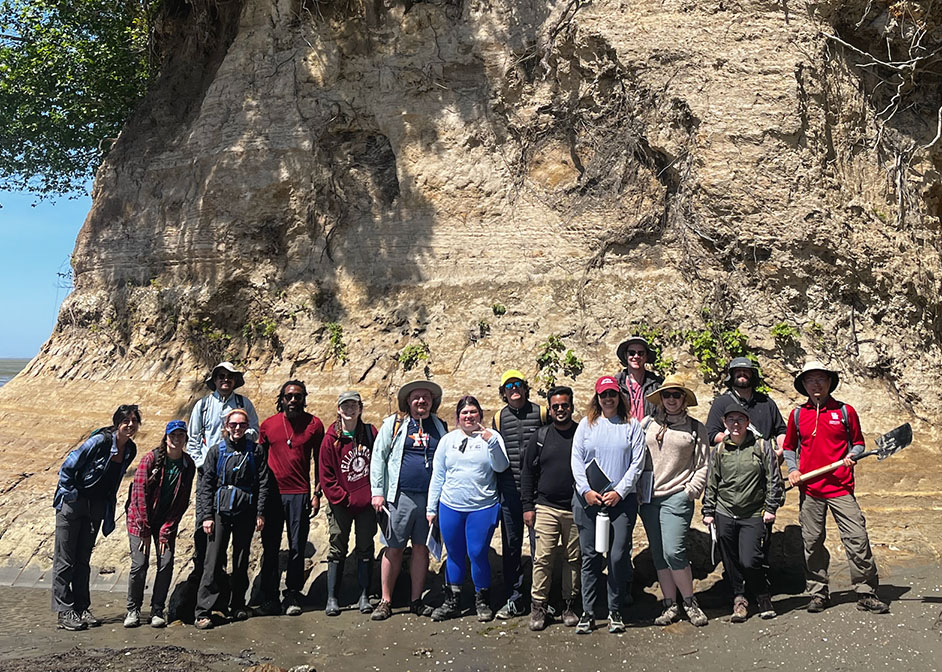 Accompanying the graduate students were three EAS faculty: Wellner, Dr. Brandee Carlson, and Dr. Honghai Zhang. Each professor provided important input related to their respective field at multiple stops and facilitated student discussions.
Wellner led the trip through three main areas of focus – Whidbey Island, Willapa Bay, and the Channeled Scablands – where graduate students provided in-depth descriptions of each geologic feature to promote discussion between the faculty and other students about different depositional environments. The purpose of this trip was to allow students to physically investigate and describe outcrops that are not present near Houston.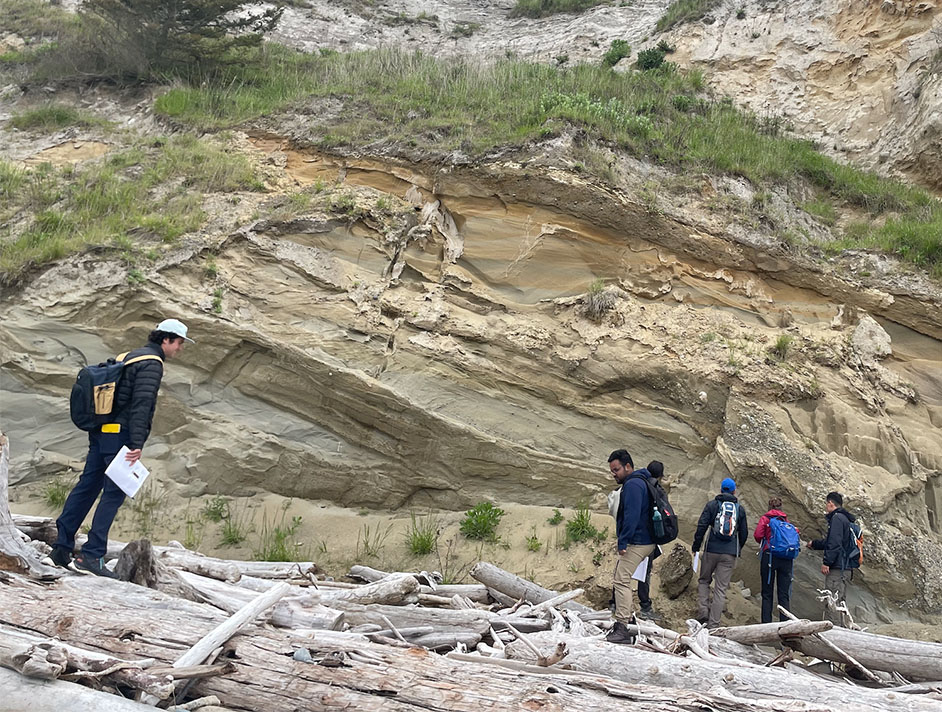 Throughout the stops, students were encouraged to describe sediment characteristics and sketch outcrops to provide their own geologic interpretations to build toward regional geologic contexts. These sketches were done in the Field Guide compiled from the students' own literature reviews performed throughout the spring semester. Each student also provided an in-depth section on notable facies and features the trip would encounter, such as glacial, tidal, and fluvial facies.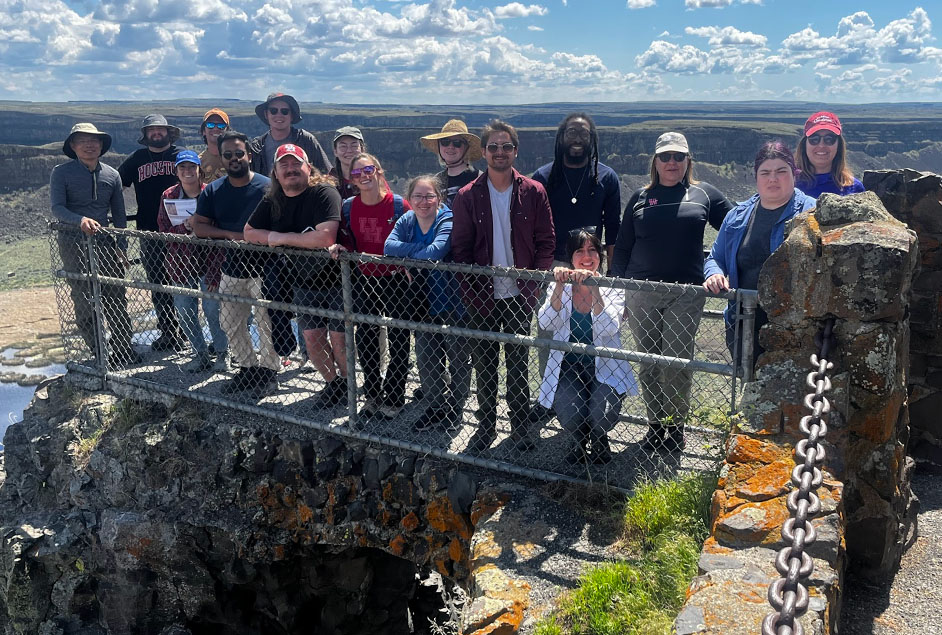 On Whidbey Island in northern Washington, graduate students Madison Rafter, Kaitlin Thomas, Daniel Ragusa, Michael Comas, and Julia Villafranca focused on glacial facies deposited by the Puget Lobe of the Cordilleran Ice Sheet during the Last Glacial Maximum. Students described outcrops of glacial till, mega breccia, and drift that catalogue the progression of glaciation on Whidbey Island and the eventual retreat of the Puget Lobe.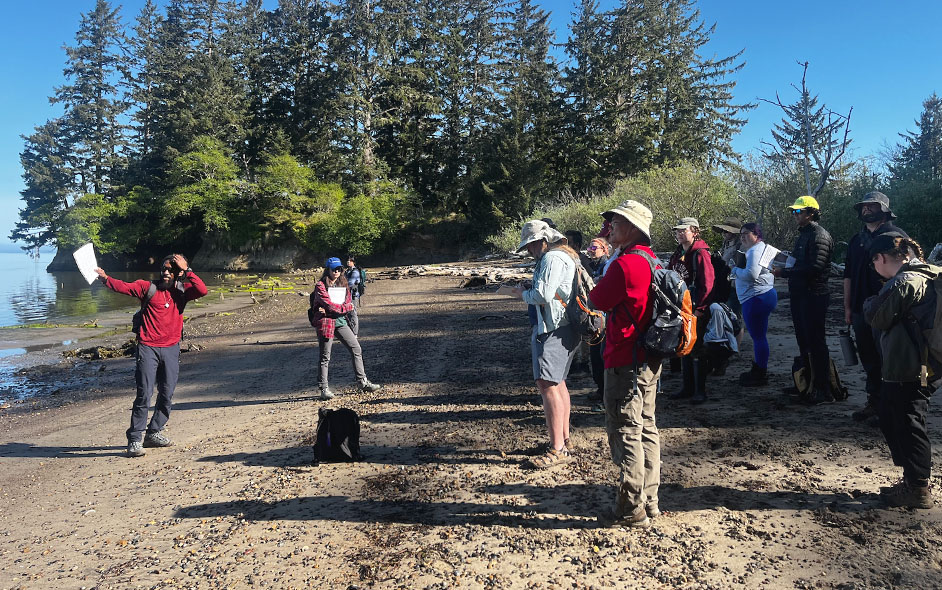 In the interior of Washington near the Channeled Scablands, much of the geomorphology was affected by the catastrophic Lake Missoula Floods that scoured the land and changed the way that geologists think of past events. Graduate students Brennen Kuhn, Gabriel Lopez Borobia, Samantha Baker, Arya Tilak, and Michael Comas led stops in this region to talk about the megaripples, coulees, and glacial erratics caused by the Lake Missoula floods in the Last Glacial Maximum.
Willapa Bay is a tide and wave influenced estuary in southern Washington that records modern tidal sedimentation. Graduate students Nilay Gungor, Michael Daniel, Caroline Mandujano, and Karissa Vermillion, along with undergraduate student Bjorn Springer, led stops at field sites about modern tidal sedimentation along the coast of Willapa Bay and sea-level fluctuation in Willapa Bay. Students helped describe a sediment core drilled near the Niawiakum River that showcases tsunami sediments generated by the Cascadia Subduction Zone off the western coast of Washington.
The trip ended with a final stop at the mouth of the Columbia River, where Drs. Wellner, Carlson, and Zhang described the modern sedimentation of the Columbia River and the bedforms developing in the present day sediments from tidal and fluvial interactions. Each provided input related to their fields of glacial processes, geomorphology, and hydrologic processes, respectively.
The field trip, made possible by a gift from Chevron for graduate student field trips, is part of a continuing program at UH, with field trips now offered each spring on a rotating schedule.
- Madison Rafter, EAS Ph.D. Student