Designation Places Wavelets as one of the 17 Best Performing SEG Student Chapters Worldwide
The Society of Exploration Geophysicists (SEG) Student Chapter Excellence Program encourages and rewards SEG student chapters for joining and leading projects that address SEG's mission of promoting the science of geophysics. SEG ranks student chapters as "Ridge, Summit, and Best" based on the impact of their activities reported in their yearly Student Chapter Report.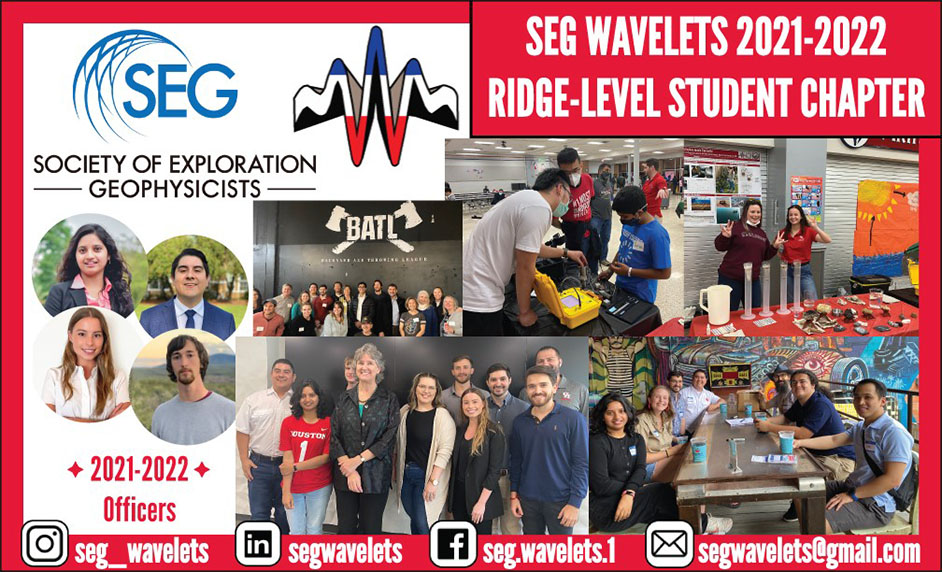 UH's SEG student chapter from the Department of Earth and Atmospheric Sciences, known as the "SEG Wavelets," was awarded a 2022 Ridge-Level Chapter status based on the work done during 2021, designating them as one of the 17 best performing SEG student chapters worldwide and one of the top three SEG student chapters in the U.S., along with Rutgers University and the University of Oklahoma. The SEG Wavelets student chapter previously earned Summit-Level Chapter recognition in 2018 and 2020.
Student chapters earn these yearly rankings by participating in SEG student programs, volunteering for SEG, leading outreach events within their local communities, collaborating with other student chapters, and organizing activities that promote social interaction and the exchange of ideas between students, faculty, and local professionals.
The recent history of the Wavelets earning recognition from SEG is evidence of the creativity and hard work the student leaders and members put into the organization each year. The Wavelets focused on four areas in 2021:
Career and technical talks featuring UH alums and local industry guest speakers,
Volunteering at the Dulles HS Math and Science Fair and the Science and Engineering Fair of Houston,
Expanding our digital influence through social media and YouTube, and
Networking and volunteering with the Geophysical Society of Houston.
The 2021-2022 officers and faculty advisor recognized with this year's Ridge-level ranking are Michael Martinez (President), Chesney Petkovsek (Vice President), Joseph McNease (Treasurer), Sharmila Appini (Secretary), and Dr. Lorenzo Colli (Faculty Advisor).
For more information on the chapter's activities, follow them on Facebook (seg.wavelets.1), Instagram (seg_wavelets), LinkedIn (segwavelets), YouTube (segwavelets), or email (segwavelets@gmail.com).
- Michael Martinez, SEG Wavelets President, 2021–2022