Students Covered Three Areas – Whidbey Island, Willapa Bay, and The Channeled Scablands – to Study Regional Differences in Deposition
Four University of Houston Earth & Atmospheric Sciences graduate students taking Dr. Julia Wellner's Modern Depositional Systems course took a field trip to view a variety of geologic structures and environments of deposition in Washington state. They were joined by several professors, as well as two students from other universities.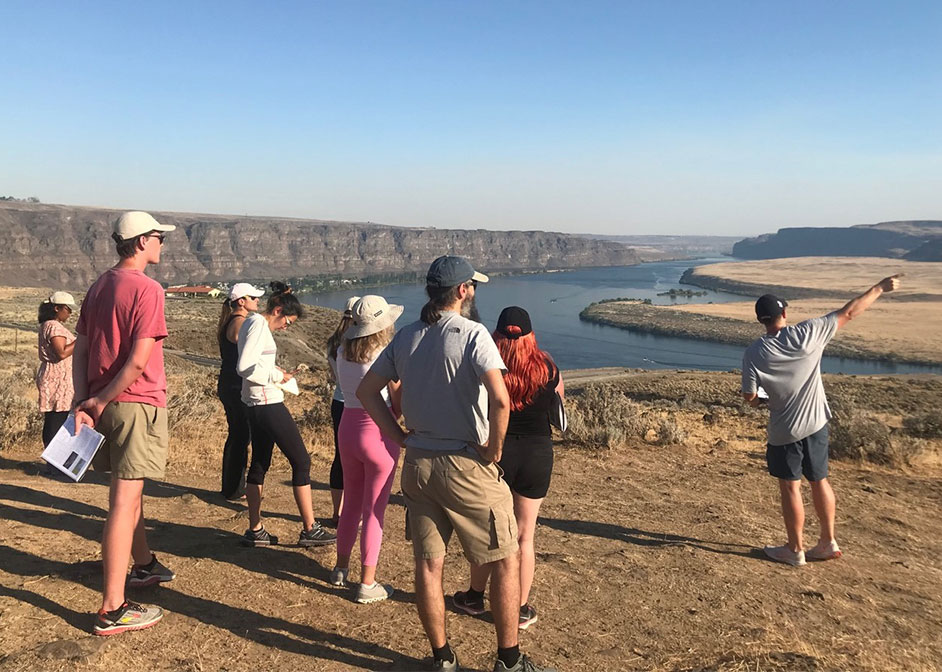 Wellner led the trip through Washington where the group stopped in three areas (Whidbey Island, Willapa Bay, and The Channeled Scablands) to study regional differences in deposition. Students and professors led lectures about different depositional environments to help in the interpretation of past geologic events.
Dr. Thomas Lapen, professor of geology and EAS department chair, joined the group in Eastern Washington to discuss the geologic history of the Channeled Scablands and Columbia River Basalts. Professor Emeritus from the University of Washington, Dr. Jody Bourgeois, met the group in Seattle and helped to identify glacial and interglacial deposits on Whidbey Island, as well as tsunami deposits in Willapa Bay.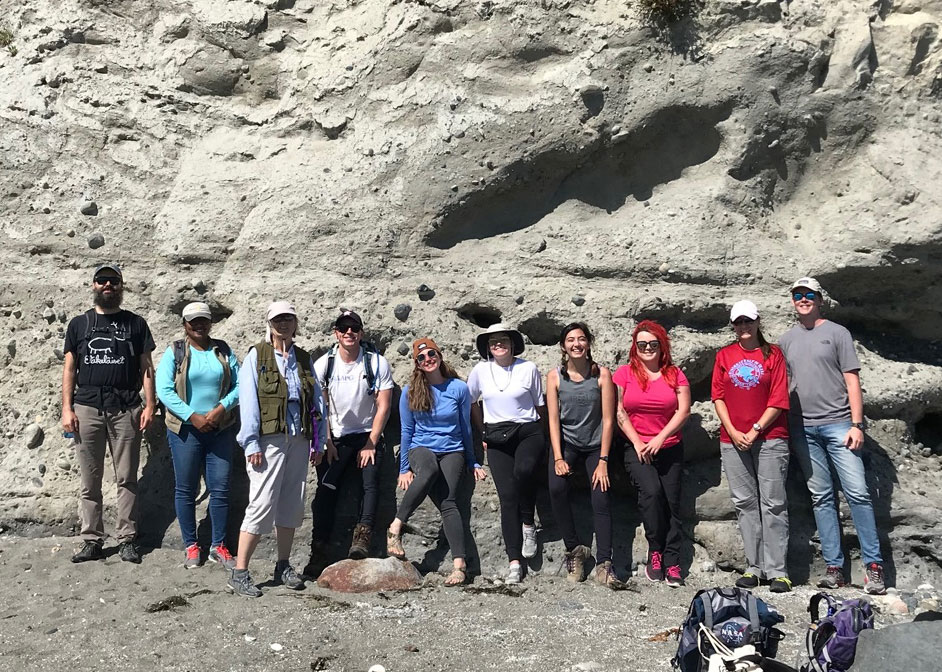 The purpose of the trip was to allow students to put their hands on unique outcrops that they are not likely to see anywhere near Houston. Many of the facies were influenced by glacial process but other environments seen on the trip include lacustrine, shallow marine, fluvial, coastal plain, and tidal deposits.
Students were encouraged to describe sediment characteristics while sketching various outcrops to help determine many distinctive environments of deposition across the state. Local outcrop interpretations were then used to establish larger geologic contexts for each region.
During the late June trip, the group experienced an unprecedented heat wave that broke temperature records in Washington, Oregon, and parts of Canada. In the Channeled Scablands, where the group was based in the town of Moses Lake, WA, temperatures soared to 116°F. This heat admittedly limited the amount of time spent hiking and led to more focus on discussion from shady spots. Rerouting was needed on the return trip to the Seattle Airport as some roads in the area had buckled from the extreme heat in the region.
The participating students included Rachel Clark (UH), Michael Comas (UH), Andrew Stearns (UH), Stephanie Suarez (UH), Asmara Lehrmann (University of Alabama), and Alie Lepp (University of Virginia). Non-student participants included Dr. Thomas Lapen (UH), Dr. Julia Wellner (UH), Dr. Lorenzo Colli (UH), Dr. Ny Riavo Voarintsoa (UH), Dr. Carla Eichler (Oklahoma Geological Survey), and Dr. Jody Bourgeois (Professor Emeritus at The University of Washington).
The field trip, made possible by a gift from Chevron for graduate student field trips, is part of a continuing program at UH, with field trips now offered each spring on a rotating schedule.
- Michael Comas, EAS M.S. Student