Students Received Best Student Presentation and Best Poster Awards
Two University of Houston Department of Earth & Atmospheric Sciences graduate students were recognized for their work at the 2020 Society of Exploration Geophysicists (SEG) Annual Meeting and International Exhibition, held October 11-16. Felicia Nurindrawati and Xiaolei Wei received, respectively, the Best Student Presentation and the Best Poster Awards in the Mining Sessions.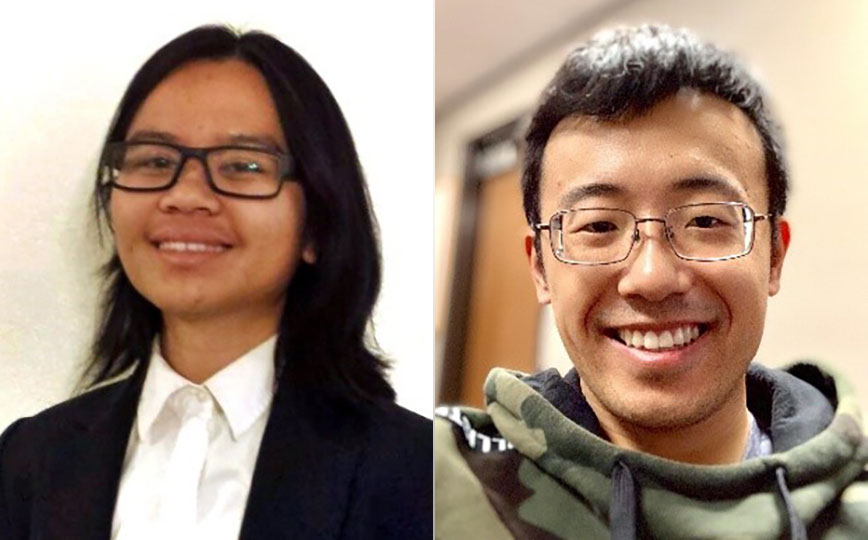 Each presentation in the sessions was rated by participants based on the novelty and significance of the research work, the quality of the presentation, and the presenters' response to questions from the audience.
The SEG annual meeting, in its 90th year, had 3,948 participants from 71 countries, including 536 students.
Best Student Presentation: Felicia Nurindrawati
Felicia Nurindrawati, who graduated with a master's degree, is now a machine learning engineer at TCarta. She gave a presentation, "Improving the accuracy of convolutional neural networks in predicting magnetization directions," based on part of her master's thesis work. Nurindrawati's work was the first to apply modern machine learning to an old problem.
Her work convincingly showed that machine learning, especially convolutional neural network, is an effective tool for solving the problem. The work also opens up many research possibilities of transforming magnetic data interpretation with modern machine learning techniques. Building upon Felicia's work, Dr. Jiajia Sun's group in the EAS department is now working to apply similar techniques to the interpretation of marine magnetic data collected over oceanic plateaus.
Best Poster Award: Xiaolong Wei
Xiaolong Wei, a Ph.D. student at UH since 2018, presented some of his doctoral dissertation research work in a poster titled "Quantifying uncertainties of deterministic geophysical inversions using mixed Lp norms." Geophysical inversions, similar to medical imaging, are routinely used by geophysicists to create 3D images of the subsurface Earth.
However, quantifying the uncertainty of the 3D Earth images has long been a challenging problem. Existing methods are mostly limited to 1D and 2D, and are computationally demanding. Wei developed a new efficient method that allows the uncertainties of 3D Earth images to be quantified quickly. His work has important implications for resource exploration and assessment.
Additional Focus of Mineral Exploration for Energy Transition
The geophysics program in EAS has traditionally focused on oil and gas exploration. With the current energy transition and the unpredictable global oil market, it is in the best interests of both students and the department to diversify the geophysics curriculum and research projects so that students have more career opportunities outside of the oil industry.
"It is predicted that a tremendous amount of minerals will be needed in the next two decades in order to build infrastructures for the energy transition," said Dr. Sun, who has been active in including mineral exploration into the curriculum and research. "It is important to equip our geophysics students with skills that would prepare them for such opportunities in the mining industry."
The two student presentation awards from the Mining Sessions at the 2020 SEG Annual Meeting are a testament to the ongoing efforts of updating geophysics curriculum and research to match society's needs.