The University of Houston Earth & Atmospheric Sciences Alumni Association (UHEASAA) announced new leadership and committee members, each of whom will serve two-year terms.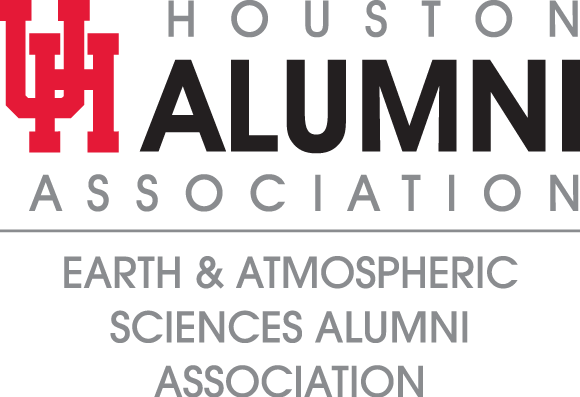 "I am very proud to be announcing new leadership changes for the UHEASAA. The committee has selected a dedicated group of members to serve on the board for the term 2020-2022 beginning August 8, 2020. These individuals have solid experience with non-profit organizations and in the Houston geoscience community. But, I am most excited by each member's commitment to serve the UH EAS Alumni," said Bill Beck ('95, M.S.'99), Director of Legacy and founding member.
"Enhancing diversity on our board will bring fresh ideas to the organization and increase participation from the alums wherever they may be," said Bryan Ott (Ph.D. '15), Past-President.
Azie Aziz, (Ph.D. '16) will serve as the new UHEASAA President, replacing Bryan Ott, who concluded his two-year term in August.
"I'd like to thank the outgoing leaders for all of their hard work establishing the foundation of our alumni organization and wish our new leaders success with their exciting responsibilities. I am very excited to lead this distinguished group of EAS alumni with an ambitious vision to enhance the UH EAS brand and communicate values that the organization can provide to the students and alums. It's an honor to serve as president of the UHEASAA. We're ready to serve the students and the alums," said Azie Aziz.
The new UHEASAA Board includes (photos and bios):
Azie Aziz (Ph.D. '16), President
Bryan Ott (Ph.D. '15), Past-President
Steven Wright ('04, M.S. '09), Treasurer
Dianna Phu ('00), Director of Communications
Courtney Anzalone ('12), Director of Events
Judy Schulenberg ('80), Director of Alumni/Student Development
Bill Beck ('95, M.S. '99), Director of UH EAS Legacy
Each Director will be assisted by:
Sharon Cornelius (Ph.D. '17), Sheriff Lecture and Research Day Alumni Chair and Development Committee Member
Anna Krylova (Ph.D. '17), Dobrin Lecture Alumni Chair
Samer Baral (M.S. '17), EAS Alumni Social Events Chair
Shawn Wright ('09, M.S. '11, Ph.D. '15), New Events and Technology Chair
Christi Gell (M.S. '99), Communications Committee Member
Yanet Cuddus ('12, M.S. '15), Communications and Development Committees Member
Carolina Mejia (M.S. '15), Communications and Development Committees Member
Duane Pierce (M.S. '90), Legacy Committee Member
All members assumed their roles effective August 8, 2020.