Conference Addressed Petroleum Geology in the Gulf of Mexico
During the week of February 4-6, three students from the Conjugate Basins, Tectonics and Hydrocarbons (CBTH) Consortium at University of Houston traveled to Mexico City, Mexico, for the 2020 AAPG Hedberg Research Conference, Geology and Hydrocarbon Potential of the Circum-Gulf of Mexico Pre-Salt Section.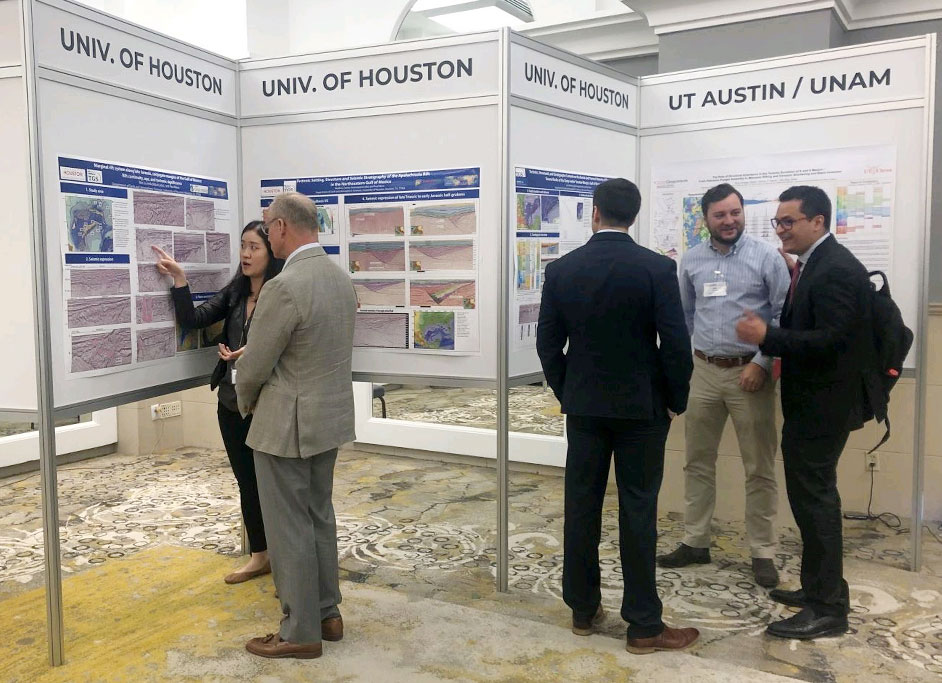 Jack Kenning (Ph.D. Geology), Matthew Storey (M.S. Geophysics), and Mei Liu (Ph.D. Geology) were invited and sponsored by one of the curators of the AAPG event, Jon Blickwede of Teyra GeoConsulting LLC, to present their graduate research on various topics in the Gulf of Mexico during the event poster session. The three graduate students are in the CBTH consortium led by Dr. Paul Mann, a professor and principal investigator of the research project at UH. The event was held at the Hotel Marquis Reforma in downtown Mexico City and was sponsored by Shell, C&C Reservoirs, Equinor, TGS, Ecopetrol, and Teyra GeoConsulting LLC.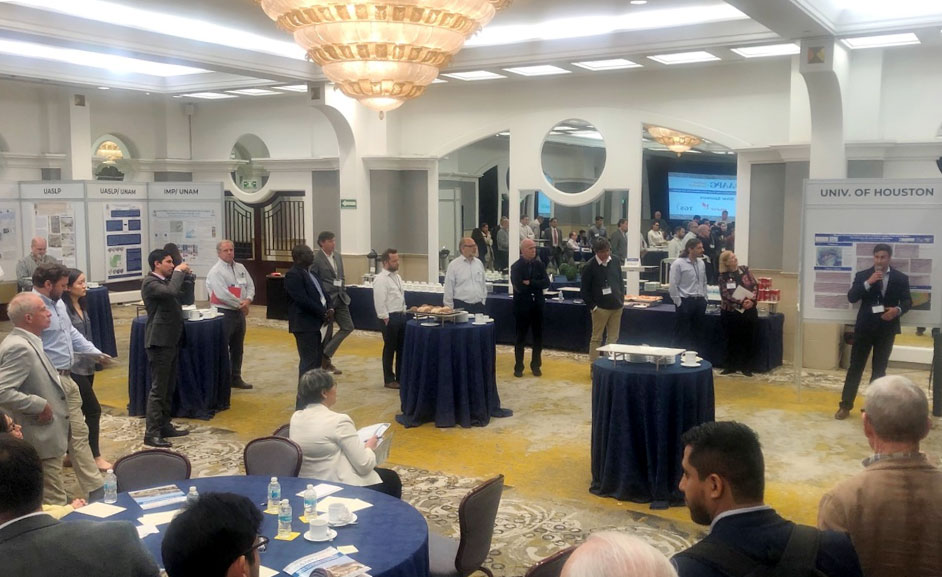 The Hedberg event was the first in AAPG's history to discuss the pre-salt potential of the Gulf of Mexico and attracted a considerable crowd of geoscientists from around the world representing many industry companies. The idea behind this original event was to help facilitate and stir up conversation about the GOM potential for hydrocarbon accumulations in the pre-salt in light of the recent exploration success in the Brazil pre-salt Campos and Santos basins.
Many talks were given from research scientists based in Mexico and Latin America that focused on the early stages of the Gulf of Mexico opening with implications on hydrocarbon potential and salt tectonics. Some notable speakers included James Pindell and Mark Rowan, who are widely known for their work on Gulf of Mexico geology.
UH Graduate Student Presentations at Event
Jack Kenning presented Tectonic, structural, and stratigraphic controls on the burial and thermal maturity of Mesozoic source rocks of the deep-water Yucatan margin, Gulf of Mexico.
Matthew Storey presented on the Tectonic setting, structure, and seismic stratigraphy of the Apalachicola Rift in the northeastern Gulf of Mexico.
Mei Liu presented on the Marginal rift system along late Jurassic, conjugate margins of the Gulf of Mexico: Rift continuity, age and tectonic significance.
The seismic data sets used in the graduate research listed above were provided by Spectrum (now TGS) which has been a long-time contributor and sponsor to the CBTH project at UH.
The students received certificates for their participation and are grateful to CBTH and Teyra GeoConsulting LLC for sponsoring their registration and journey to Mexico City, Mexico.
For more information on the event, read the related article at this link.