Internship Experience Takes Furrh to Anchorage, Alaska
As a recipient of the Hollings Scholarship, University of Houston undergraduate Jacob 'True' Furrh spent his summer interning with the National Oceanic and Atmospheric Administration (NOAA). For Furrh, an environmental sciences major, that meant working on a flood model for a neighborhood in Anchorage, Alaska.
The Hollings Scholarship
The Hollings Scholarship Program recognizes outstanding students studying in NOAA mission fields. In addition to two years of tuition support, Hollings Scholarship recipients spend the summer between the first and second year of their award interning at a NOAA office of their choice.
This internship, which runs for 10 weeks and comes with a stipend, offers hands-on, practical experience. Internship opportunities range from field research to science policy to science education.
Modeling Flood Maps in Alaska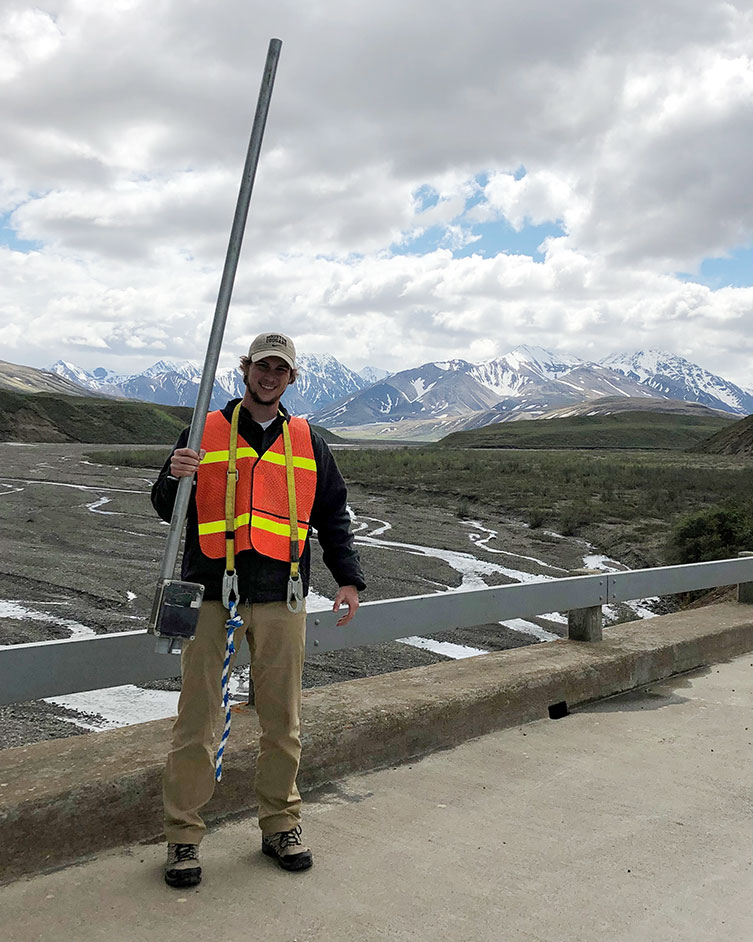 Furrh's work focused on modeling flood events for a neighborhood in Anchorage, Alaska, that is close to the confluence of the Chena and Tanana rivers. Due to this confluence, this neighborhood floods frequently, often before other neighborhoods are affected.
Given the limited data, these flood events are hard to predict.
"What you need is a good topography map of an area, which includes channel bathymetry information," Furrh said. Bathymetry, sometimes called 'submarine topography,' is the measurement of the depth of water in oceans, seas or lakes.
"The problem is, we had really good topography data, but we didn't have any channel bathymetry data, which meant channel depth was a complete unknown," Furrh said.
In the absence of bathymetry data, Furrh took a backwards approach, which meant constructing inundation maps of recent floods using satellite imagery and historical data. He then used that information to predict channel depth, in order to come up with a better model.
"This internship fit into my overall goals," Furrh said. "Flooding is one of my current interests."
Final Research Presentation in Silver Springs, Maryland
After the conclusion of his internship, Furrh traveled to Silver Springs, Maryland, to present his work, along with fellow Hollings Scholarship recipient, biology major Rachel Sanchez-Ruffra. As part of their scholarships, Furrh and Sanchez-Ruffra can also apply to attend up to two national scientific conferences during the fall.
- Rachel Fairbank, College of Natural Sciences and Mathematics