Consortium Has Employed 95 Undergraduate and Graduate Students Since 2011
The CBTH group, an oil-industry funded consortium in the University of Houston's Department of Earth & Atmospheric Sciences, held its annual year-end meeting on Friday, September 21, at Cemo Hall in the UH Bauer College of Business. At the meeting, CBTH reported its annual progress to the group's eight oil industry sponsoring companies.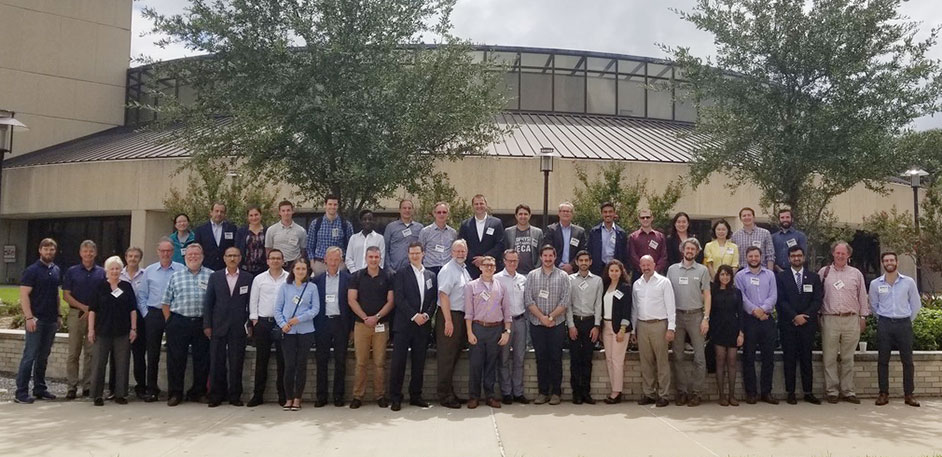 The CBTH project, which stands for "Conjugate Basins, Tectonics, and Hydrocarbons," is co-led by Dr. Paul Mann of the EAS Department and Dr. Alejandro Escalona of the Department of Petroleum Engineering at University of Stavanger in Norway. The regional study of hydrocarbon basins, which began in the Caribbean region, currently supports 38 professionals and students in both departments and has geographically expanded to include the "conjugate," or paired, hydrocarbon-rich margins of the Gulf of Mexico and the South and Central Atlantic Oceans.
This year's meeting included 20 participants from the EAS group, 3 from the Stavanger group and 34 representatives from the oil industry.
Since moving to UH from the University of Texas at Austin in 2011, the CBTH group's original research has formed thesis topics for B.S., M.S., and Ph.D. students from both UH and Stavanger - along with compiling GIS databases that are applied to hydrocarbon exploration. Students benefit from access to state-of-the-art oil industry data and interactions with oil industry experts who serve as mentors and thesis committee members.
Since 2011, the project has employed a total of 95 students at UH and the University of Stavanger with almost all earning a graduate or undergraduate degree. Job placement in the oil industry has been very high with CBTH graduates working in the following companies: Anadarko, Bureau of Ocean Energy Management (BOEM), Total, Shell, Centerpoint Energy, Chinese National Offshore Oil Company (CNOOC), ConocoPhillips, Ecopetrol, Faroe Petroleum, ION Geophysical, Equinor, Hess, Dynamic Data Systems, G2 Integrated Systems, Sanchez Energy, Thirty-Nine Two Research Group, OXY, and Schlumberger.

Two graduated Ph.D.s from UH are now assistant professors in geology programs in Colombia and Trinidad and one UH Ph.D. is a researcher at the Helmholtz Institute in Germany.

UH undergraduates have continued their studies in graduate geoscience programs at UH, Colorado School of Mines, University of Texas at Austin, University of Texas at El Paso, Tulane University, and Louisiana State University. One UH undergrad is now a postdoctoral researcher in carbon sequestration at the University of Bergen in Norway.