Scholarship Awards $4,500 Per Year
Three University of Houston Earth and Atmospheric Sciences graduate students received Warren L. and Florence W. Calvert Memorial Scholarships from the Houston Geological Society. The scholarship fund, created in 1974 by the Calvert family, is directed "to assist worthy and needy geological students to pursue graduate studies in some branch of Economic Geology leading to a master's or doctoral degree."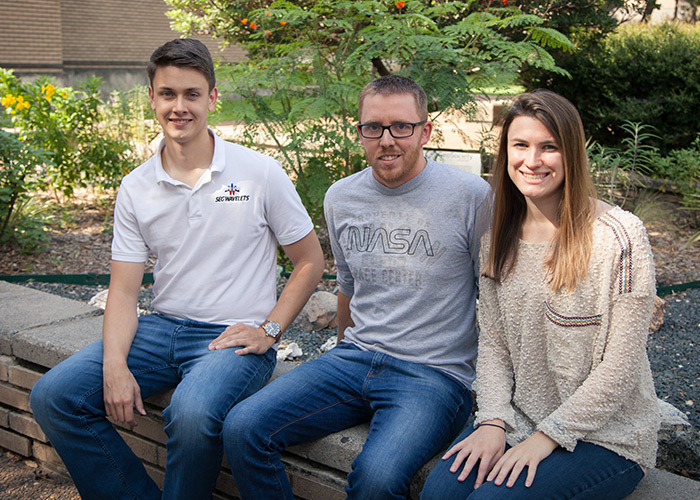 Walter Reed, Matthew Sexton and Mariah Michie received Calvert Memorial Scholarships from HGS.Two of the students, Walter Reed and Matthew Sexton, are studying geophysics with Dr. William Sager. The third student, Mariah Michie, is studying with Dr. Alan Brandon and Dr. Jack Casey.
Calvert Memorial Scholarship Recipients
Walter Reed
Reed is working on a bathymetry map for the Tamu Massif volcano for his M.S. thesis. He was a member of the 2017 top-award winning Imperial Barrel Award team and has accepted a position with ExxonMobil.
Matthew Sexton
Sexton, a Ph.D. student, is studying Cretaceous volcanism in the Pacific Ocean with reflection seismic and bathymetry data.
Mariah Michie
Michie's scholarship is an extension from last year. She is a master's student studying the isotopic geochemistry of hydrocarbons. This summer, she completed an internship with Peregrine Petroleum and plans to pursue a career in the petroleum industry.
About the Scholarship
Since its inception, the Calvert Scholarship Fund has awarded approximately $520,000 in scholarships. Each year, around 6-8 scholarships are awarded in amounts of approximately $4,500 per year. Applications for the scholarship, open to geology or geophysics graduate students, are typically due in late May/early June.