Students Presented 84 Talks and Posters at the Day-Long Event
A judging team of 25 departmental professors and oil industry experts selected winners from 84 talks and posters presented at the 2017 Department of Earth and Atmospheric Sciences Student Research Day. The event was held in Science & Research Building 1 at the University of Houston.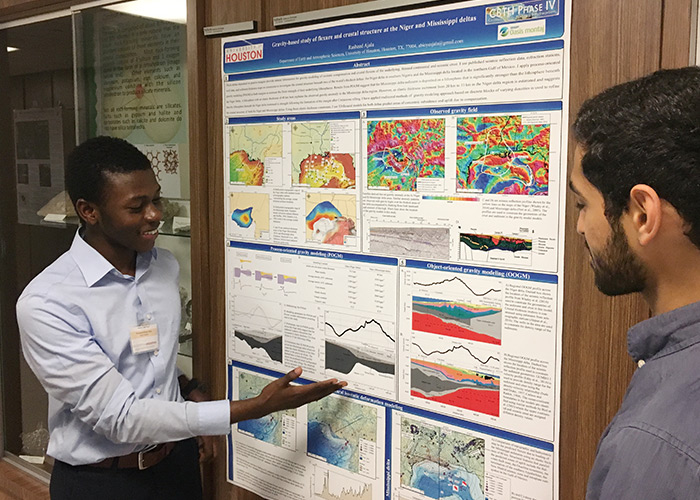 Graduating undergraduate Rasheed Ajala presents his poster on flexure associated with large deltas. He will start a Ph.D. program in geophysics at Louisiana State University in fall 2017.The poster competition is subdivided into various groups based on the level of the presenters that range from undergraduate students, M.S. to early Ph.D. students, and Advanced Ph.D. students. Advanced Ph.D. students also presented in an oral presentation category.
The 25 volunteer judges included 12 EAS professors and 13 oil industry geoscientists.
Oral Presentations from Advanced PhD students
1st Place (Room 634): Delaney Robinson
1st Place (Room 223): Kurt Sundell
2nd Place (Room 634): Yukai Wo
2nd Place (Room 223): Lillian Schaffer
3rd Place (Room 634): Dustin Villarreal
3rd Place (Room 223): Hongli Jing
Thanks to following judges:
Room 634: Yuxuan Wang, John Suppe, Rob Stewart
Room 223: Julia Wellner, Margarete Jadamec, Robert Talbot
Undergraduate Poster Presentations
1st Place: Ane Slabic
2nd Place: Valerie Smith
3rd Place: Julian Chenin
Thanks to the judges for the undergraduate posters:
Lance Wood, Barbara Tillotson, David Meaux, Elizabeth Beal
M.S. and Early Ph.D. Poster Presentations
1st Place: Janet Kong
2nd Place: Yi-Wei Chen
3rd Place: Beatriz Serrano-Suarez
Thanks to the judges for the M.S. and early Ph.D. category:
Yonsoo Choi, Xun Jiang, John Castagna, Keith Mahon, Olga Kostenko, Aria Abubakar, Peter Duncan, Kush Tandon, Stephen Naruk
Advanced Ph.D. Poster Presentations
1st Place: Shutting Yang
2nd Place: Diana Krupnik
3rd Place: McKensie Kilgore
Thanks to the judges for the Advanced Ph.D. category:
Anahita Tikku, Evgeny Chesnokov, Bob Wang, Jinny Sisson, Clay Painter, Eugene Szymanski