Poster Session Included Presentations by 15 Students from U.S. and Canadian Universities
Department of Earth and Atmospheric Sciences students Ane Slabic, an undergraduate, and Anna Krylova, a Ph.D. student, won first and second place at the student poster session during the Houston Geological Society Applied Geoscience Conference. The conference, "Integrated Approaches of Unconventional Reservoir Assessment and Optimization," was held March 7-8 at the Anadarko Conference Center in The Woodlands, Texas.
Slabic and Krylova were among the 15 poster presentations given by students from universities around the U.S. and Canada. Presenters ranged from undergraduate students to doctoral candidates.
First Place: Ane Slabic
Slabic's presentation entitled "Uranium, Thorium, and Lead Isotope Geochemistry of Petroleum Source Rocks: An Example from the Eagle Ford Group, Texas" was an outcome of her Senior Honors Thesis through the University of Houston's Honors College.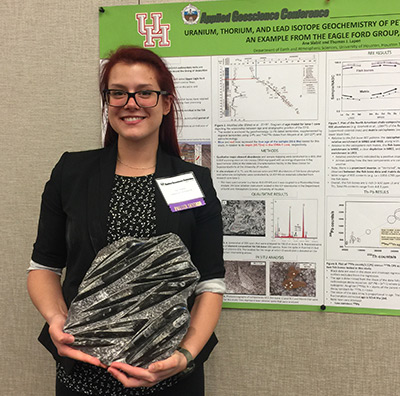 Her work involves isotope geochemistry with the goal of finding a new method to determine the age when sediments developed and the changes that happened since the sedimentary rocks were originally laid down. Her advisor is Tom Lapen, professor of geology.
Slabic, a geology major who is graduating in May, is one of four UH students to earn an NAGT-USGS internship. This summer she will work with the USGS in Menlo Park, Calif., on a hydrogeology project. She hopes to work additional internships before applying to graduate school for fall 2018. Her ultimate goal is to become a professor.
"This conference and the poster presentation made me gain confidence in myself. Since I was one of the youngest students, I felt honored to be there and have so many people interested in my research project," Slabic said. "I met a ton of really great people, and I have a huge list of references to contact."
Second Place: Anna Krylova
A third-year Ph.D. student in geophysics, Krylova is also graduating in May. Her poster, "Dispersive Properties of a Fractured Fluid-Saturated Layer," covered research completed under the mentorship of EAS research professor Gennady Goloshubin.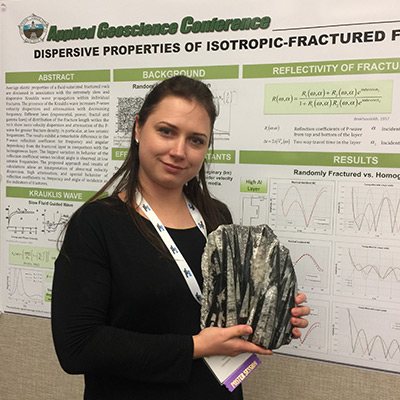 The work involves low-frequency seismic reflection from isotopic-fractured layers. "We investigate the reflectivity properties of the fractured media. This is a theoretical approach; it might provide clues to the exploration of naturally fractured hydrocarbon-saturated reservoirs and could be a factor to increase the efficiency of seismic monitoring," Krylova said.
She received a HESS Scholarship in 2016 and has presented her work at multiple conferences including the European Association of Geoscientists and Engineers Annual Conference and the Society of Exploration Geophysicists Annual Meeting.
After graduation, Krylova will join PGS as a seismic imaging analyst working on seismic imaging and velocity model building.
The conference also offered 21 technical talks covering eight topics. The full details of the conference and presentations can be accessed at this site.
- Kathy Major, College of Natural Sciences and Mathematics