Poster Covered Study of Deepwater Petroleum Potential of the Amazon Delta of Offshore Brazil
Lucia Torrado, a third-year Ph.D. student in University of Houston's Department of Earth and Atmospheric Sciences, won a first place award at the student poster competition at the American Association of Petroleum Geologists (AAPG) Annual Convention and Exhibition held in Houston, April 2-5.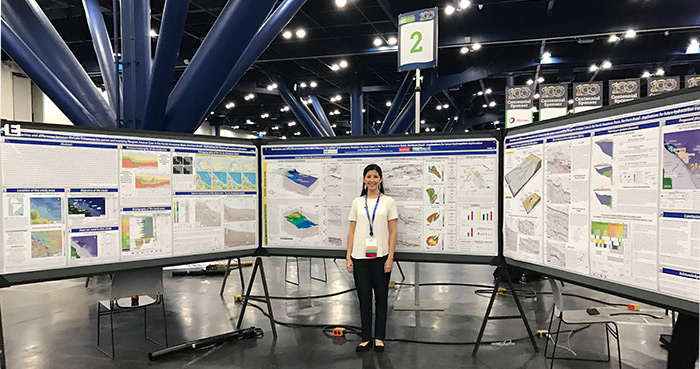 Related Coverage: AAPG ExplorerThe 15 posters in the student competition were selected by a panel of judges from over 100 student poster entries. First, second, third and fourth place awards were given to the top posters.
Torrado received $2,000 in prize money from the AAPG Foundation along with $750 given to the AAPG student organization in the EAS department. Student posters were scored by a panel of judges based on the overall appearance of the poster, quality of data and interpretations, oral summary of the poster by the presenter, and responses of the presenter to questions posed by the judges.
Torrado's poster, entitled "Similarities and Differences Between the Late Cretaceous Fan Complex and the Overlying Neogene Amazon Cone in the Foz do Amazonas Basin, Northern Brazil – Implications for Future Hydrocarbon Exploration," presented a three-panel summary of one chapter of her Ph.D. dissertation that included her interpretation of seismic reflection and well data to predict the presence of hydrocarbon reservoirs submarine fan deposits in offshore Brazil. The study is timely due to recent hydrocarbon discoveries along the deepwater margin of northeastern South America.
At the 2013 AAPG Annual Convention held in Pittsburgh, Torrado won a third place poster award for a chapter of her master's the entitled "Fluvial Geomorphology Changes Linked to Tectonic Effects during the Late Eocene-Oligocene in the Northern Llanos Foreland Basin of Colombia."
Other UH faculty and student oral and poster presentations at the 2017 AAPG meeting are listed at:
 www.uh.edu/nsm/earth-atmospheric/news-events/assoc-meetings/AAPG/2017.php