Grants Awarded to EAS Department by American Association of Petroleum Geologists
Second-year Geology Ph.D. students Lucien Nana Yobo and Carolina Ramon-Duenas have been awarded 2017 Grants-In-Aid funding from the American Association of Petroleum Geologists Foundation (AAPG).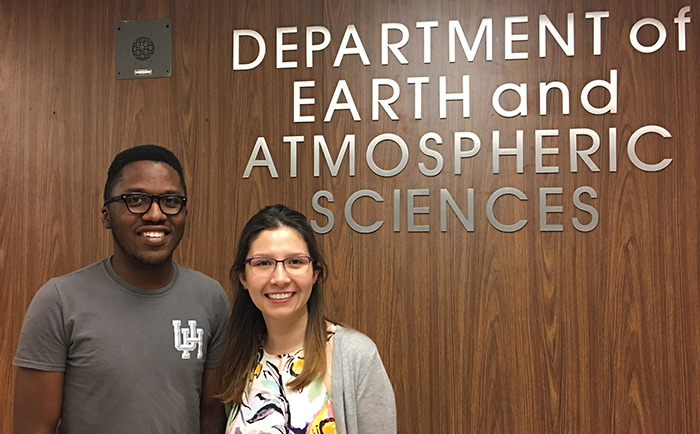 This year, the program awarded a total of $274,750 in research funds to 126 graduate students across the world. These funds, many of which are sponsored by generous donors from the energy industry, are awarded each year to support graduate and post-graduate students in their research related to earth science aspects of the petroleum energy industry. This includes the exploration and development of hydrocarbons, economic sedimentary minerals, and relevant applications of environmental geology.

The Grants-in-Aid program was established in 1956, and award amounts vary up to a maximum of $3,000. This program allows AAPG Foundation contributors an opportunity to make a long-term investment, not only in the future of a well-qualified student, but also in the future of petroleum geology as a science and profession.

Lucien Nana Yobo
Kenneth H. Crandall Memorial Grant: Supports Nana Yobo's research on diagenesis and geochemistry of Oligocene-Miocene carbonate evolution of SE Colombia. His research is supervised by Dr. Juan Carlos Silva-Tamayo.

Carolina Ramon-Duena
Grants-in-Aid Fund: Supports Ramon-Duenas' research of the San Luis Pass flood tidal delta to establish the relationship between dune geometry, grain size and water depth. Her research is supervised by Dr. Julia Wellner.