Trip Made Possible Through a Generous Gift from the Chevron Corporation
From September 10-17, northern New Mexico and southern Colorado were the destinations for students taking Tectonics and Sedimentation in the Field (GEOL6397). The students were under the collaborative supervision of University of Houston Department of Earth and Atmospheric Sciences professors Mike Murphy, Kurt Rudolph and Joel Saylor.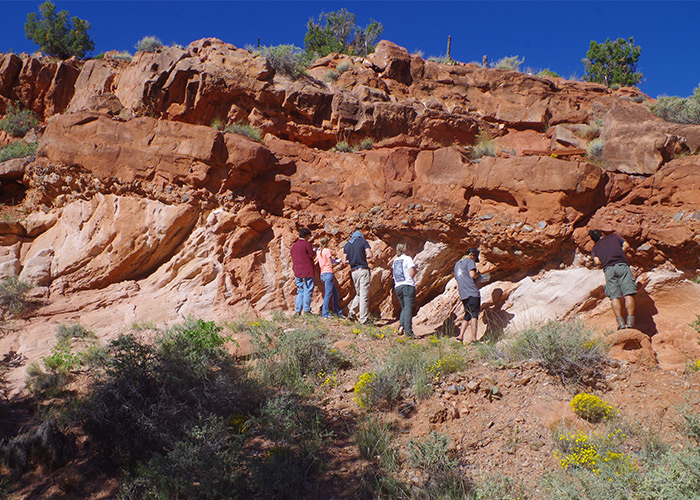 The excursion focused on Mesozoic and Paleogene stratigraphy from the Raton, El Rito and Galisteo basins. Seven students practiced field-related techniques such as mapping, measuring sections, lithofacies interpretation, clast counts and collecting structural data. Students applied learned skills and incorporated new skills into their knowledge pool, developing a fundamental toolkit for producing geological knowledge through field work.
The excursion started with an overview of the stratigraphy and geography of the area, as well as regional tectonic evolution, followed by field exercises. The scope of the field trip was not limited to exercising field skills, but also involved collecting crucial data about the evolution of North American western and southwestern geology which can be used for future research and publication.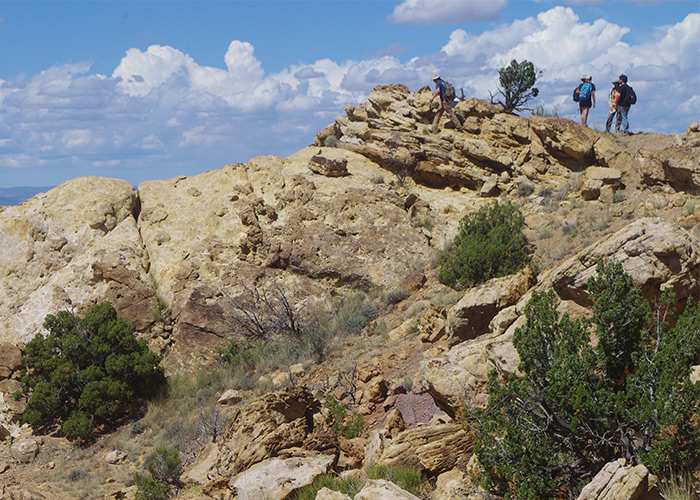 Talks given by the students during the evenings also proved to be an excellent opportunity to learn local and regional geology as well as experience a collaborative research setting. The field work will be followed by a collaboratively written project interpreting the data and observations during the field trip.
Overall, the field trip represented an outstanding opportunity for students to work closely with each other and the professors toward better understanding the concepts of tectonics and sedimentation. It was also a refreshing reminder of how geology goes far beyond labs, whiteboards and PowerPoint presentations and how important field work is in the development of the geosciences.
This field trip was made possible through a generous gift from the Chevron Corporation. Participants from UH included Carlos Andrade, Ross Andrea, Jordan Dickinson, Shelby Johnston, Yiduo Liu, Mike Murphy, Kurt Rudolph, Joel Saylor, Tyson Smith and Kurt Sundell.
- Carlos Andrade, EAS Graduate Student