Wu Part of New UH Center for Tectonics and Tomography
Jonny Wu recently joined the University of Houston's Department of Earth and Atmospheric Sciences as an assistant professor in structural geology, tectonics and mantle structure. His research involves mapping and retrodeforming Earth structures in 3D from the mantle to upper crust to study global plate tectonics, subduction zones, sedimentary basin evolution and individual fault-fold dynamics. Wu will also join the new UH Center for Tectonics and Tomography directed by Professor John Suppe.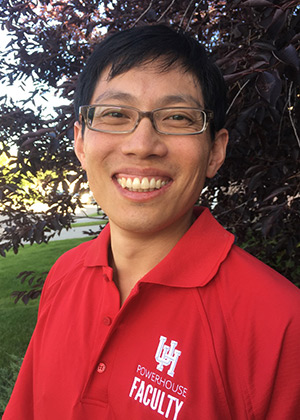 Wu was born and raised in Canada and has five years of petroleum industry experience with Shell Canada in Calgary, as an exploration geologist, seismic interpreter and lead well operations geologist for the offshore Canadian East Coast Atlantic rift basins and the Canadian Arctic. He received his B.Eng. in geological engineering from the University of Waterloo, Canada. Wu was awarded his M.Sc. and Ph.D. from Royal Holloway, University of London, UK. He joins UH after completing a five-year postdoctoral fellowship at National Taiwan University in Taipei.
Wu's plate tectonic research focused on using seismic tomographic methods to map subducted slabs in the mantle that can be used to reconstruct ancient oceans that have been lost through geologic time by their subduction. At the newly established UH Center for Tectonics and Tomography, Wu and Suppe will work collaboratively with EAS faculty to apply these methods to other parts of the Earth.
Wu and Suppe published a recent paper in the Journal of Geophysical Research on reconstructed slabs in the western Pacific region. This paper was highlighted in an article in the Washington Post.