Work Covers Years of Research on Shatsky Rise Oceanic Plateau, Including Tamu Massif Volcano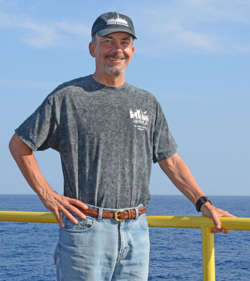 Dr. William Sager, professor of geophysics in the University of Houston's Department of Earth and Atmospheric Sciences, has published an invited review in the journal Earth-Science Reviews (v. 159, August 2016). The review covers years of research about the Shatsky Rise oceanic plateau, which includes the Tamu Massif volcano. The piece encapsulates the research by Sager and colleagues including an expedition of the Integrated Ocean Drilling Program (now International Ocean Discovery Program) and several other research cruises.
The review focuses on the geology and life cycle of Shatsky Rise and Tamu Massif as well as the question of where such massive volcanic mountains come from. Sager and his co-authors conclude that despite indications that the magma rose from deep in the Earth's mantle, there is an undeniable link to the mid-ocean ridge system that suggests a link between these deep and shallow processes.