Article Appeared on ExxonMobil's Energy Factor External Website
In March 2016, the University of Houston's Department of Earth and Atmospheric Sciences went on their annual Geology Field Methods class trip to Big Bend State Park in West Texas. Two hundred and fifty students participated in the field excursion where they camped for a week, carried 20 to 25 pounds of gear daily, hiked 8 hours under the heat of the sun, traversed 3 miles of rocky terrain, and slept out in the cold desert night. It was a physically and mentally taxing exercise.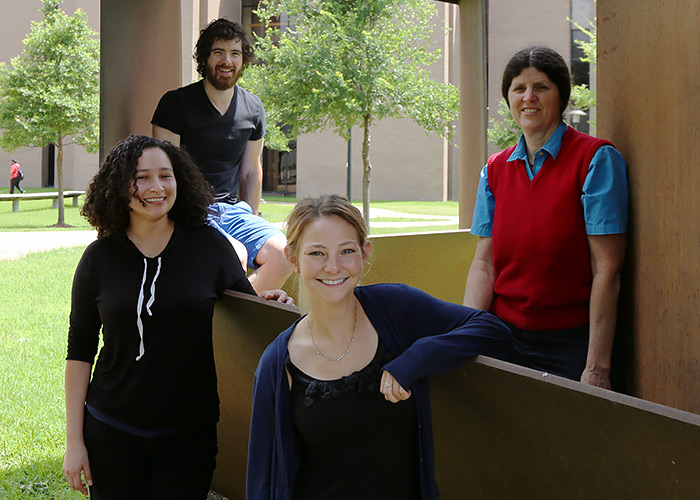 On the University of Houston campus: Bottom: Yuribia Munoz and Delaney Robinson Top: Dustin Villarreal and Dr. Jinny Sisson"The goal is to introduce undergraduate students who are studying for a degree in geology to experience field methodology by teaching them to map, understand the terrain and have an overall positive experience," said Dustin Villarreal, a Ph.D. student working on structure, tectonics and geochronology. "We take them off the beaten track and put them in a situation to locate their position on the map and use the topography to study, chart, and map the faults, rocks, and structure – basically drilling the students on the elements of geological field work."
Mitigating a Medical Emergency with the Help of ExxonMobil
One day, the students left their vans about 9 a.m. and were approximately two miles from the road when a student overheated and experienced seizures while mapping terrain in a gully. "She sat down and we realized she was dehydrated from the high temperatures," said Delaney Robinson, a Ph.D. student studying sedimentology and marine geology. "As she tried to stand up her legs began to shake and she experienced a seizure – the first in a series. We quickly assessed the situation and began applying first aid techniques, applicable to remote field areas, we learned from Dr. Bohacs during his ExxonMobil Wilderness First Aid and Field Safety training course."
Working as a team, the three teaching assistants acted quickly and calmly to respond to the situation. "Dr. Bohacs taught us about the psychological impact of a health crisis when in the field," said Yuribia Munoz, a Ph.D. student studying sedimentology and marine geology. "He explained that staying calm and maintaining constant and focused communication with the patient was critical, while ensuring the other students were focused on their tasks and not amplifying the crisis." Thankfully, due to the quick and effective treatment, the student was able to be stabilized for transportation to a hospital and made a full recovery.
Why Wilderness Safety Training?
Dr. Jinny Sisson, Research Associate Professor and Co-Director of the Geoscience Learning Center and University of Houston's Yellowstone Bighorn Research Associate (YBRA) field course, created the initial opportunity for her students to learn field safety training. "I've been concerned about field safety and taking first aid courses throughout my career," said Sisson. "I enlisted Dr. Bohacs to come and teach a Wilderness First Aid and Field Safety training course to our faculty and students. While you never want to have a medical emergency, I can say my students were able to apply the training they received in a real-life situation."
Safety is Not Proprietary
Dr. Kevin Bohacs, Senior Research Associate with ExxonMobil's Upstream Research Company, and Steven Oliveri, with the company's Medicine and Occupational Health department, co-wrote "Field Safety in Uncontrolled Environments" as an external resource for universities and industries that gather research in the field. "In 2003, we developed a company safety manual for our Upstream Companies because we would participate in field trips led by other companies and professors," said Bohacs. "We also learned that universities were finding it challenging to sponsor research trips in the field due to the risk of injuries and because of liability concerns by land owners. These issues prompted us to ask ourselves – how do we make these outings safe? Our answer was to make our safety manual a public offering of information."
ExxonMobil offers a Field Safety Leadership course to simulate first aid accidents and create real-life scenarios that may occur during a field trip activity, which includes everything from preparation and execution of safe field activities to gathering field data on how and when people get hurt. In 2005, Bohacs enlisted the Geological Society of America to solicit their help to promote the safety training. Today, ExxonMobil's Field Safety Program has trained high school science teachers, university field staff and researchers, the National Aeronautics and Space Administration's (NASA) astronaut program, American Association of Petroleum Geologists (AAPG) and many other organizations participating in field training and research.
- Article Courtesy of Erin Edgington, Employee Communications Advisor, ExxonMobil Corporation