Team Advances to Finals at SEG Annual Meeting in Dallas
For the third consecutive year, a University of Houston student team won the Regional Challenge Bowl at the Geophysical Society of Houston Spring Symposium. In October, the team will compete in the finals at the Society of Exploration Geophysicists International Exposition and 86th Annual Meeting in Dallas.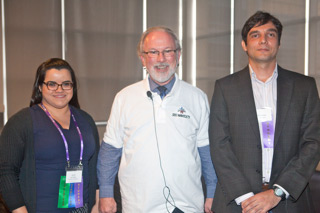 SEG Wavelets and Geophysical Society of Houston Regional Challenge Bowl winners -- The Amoeba People team. From left, Joan Marie Blanco, Wavelets Challenge Bowl host Peter Duncan, and Alexandre Silva.The winning team, The Amoeba People, is composed of two UH Department of Earth and Atmospheric Sciences geophysics Ph.D. students, both with a strong basis in geology.
Alexandre Augusto Cardoso da Silva received his bachelor's degree in geology and master's degree in geophysics from Universidad de Brasilia (Brazil) and is currently pursuing his Ph.D. in geophysics at UH with Allied Geophysical Laboratories group. Joan Marie Blanco received her bachelor's and master's degrees in geophysics from Universidad Simón Bolívar (Venezuela) and is pursuing her Ph.D. in geophysics at UH with Caribbean Basins, Tectonics, and Hydrocarbons group.
The team, representing the UH EAS department's SEG Wavelets Student Chapter, had won an internal competition at UH organized by SEG Wavelets to promote the Regional Challenge Bowl.
The results exhibited by The Amoeba People team during the regional competition did not differ from the effort presented at SEG Wavelets Challenge Bowl. During the Regional Competition, the team kept its lead on all rounds played, beating Rice University and University of Texas teams.
Another UH team, Huginn & Muninn, placed third at the GSH Spring Symposium. Team Huginn & Muninn included Wenyuan Zhang, a UH geophysics Ph.D. student, and Andrew Koller, a UH geophysics master's student. Their team placed second at SEG Wavelets Challenge Bowl the week prior to the regional competition.
Four teams competed in the SEG Wavelets Challenge Bowl, which was gratefully hosted by Peter Duncan. The previous year's winning team from UH was invited to compete in the Wavelets Challenge Bowl to add some fun to the event. The winning Wavelets Challenge Bowl team had their subscription to GSH Spring Symposium paid by the chapter.
"Definitely, SEG Wavelets Challenge Bowl helped us in the GSH competition. After the event promoted by SEG Wavelets, we could define a better strategy for the regional match in the GSH Spring Symposium," Silva said.
The UH SEG Wavelets are thrilled about the results and the participants' testimonials supporting the organization's efforts in putting the event together. The Wavelets intend to keep promoting their Challenge Bowl.
"The Challenge Bowl is a great reminder to all of us about how we should try to keep a "student mind" – remaining curious and eager to learn, accepting that we don't have all the answers, and laughing while doing it," Blanco said.
- Elita de Abreu, SEG Wavelets President