Two EAS Ph.D. Students Receive Student Poster Awards at GCAGS Conference

Carvajal and Liu Tie for Third Place
Luis Carlos Carvajal and Yiduo (Andy) Liu, both Ph.D. candidates at the University of Houston's Department of Earth and Atmospheric Sciences, tied for third place in the student poster competition of the Gulf Coast Association of Geological Societies (GCAGS) and the Gulf Coast Section of the SEPM 65th Annual Convention held at George R. Brown Convention Center in Houston, September 21-22.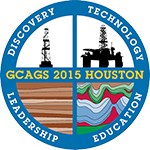 Each year, the GCAGS recognizes outstanding graduate students from the Gulf Coast Region universities based on their outstanding academic achievements and contributions to geosciences.
The 66 posters in the student competition were selected by a panel of judges from over 100 student poster entries. First, second and third place awards were given to the top posters. Student posters were scored by a panel of judges based on the overall appearance of the poster, quality of data and interpretations, oral summary of the poster by the presenter, and responses of the presenter to questions posed by the judges.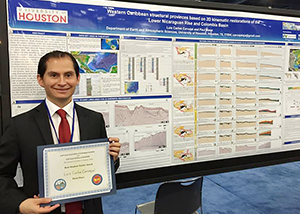 Carvajal's poster, entitled "Western Caribbean Structural Provinces Based on 2D Kinematic Restorations of the Lower Nicaraguan Rise and Colombia Basin" (Mexico and Caribbean Plays theme), presented a summary of one chapter of his Ph.D. dissertation that included four kinematic restorations of major tectonics structures along the western Caribbean Sea. His Ph.D. research is supervised by Paul Mann, professor of geology, tectonics and petroleum geology.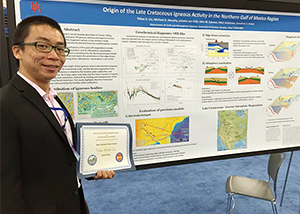 Liu's poster, entitled "Slab Tearing Triggered the Cretaceous Igneous Activity in the Northern Gulf of Mexico Region" (Geology - Geophysics – Engineering theme), presented a new conceptual model in which stagnant Farallon slabs provide the ultimate driving force for the mantle-derived magmatism in the northern Gulf of Mexico region, as well as central U.S. and Canada. His Ph.D. research is supervised by Mike Murphy, associate professor of structural geology and tectonics.
Both Carvajal and Liu received a winner certificate and a token of appreciation from the GCAGS organizing committee.
Second place was awarded to Sasha Gumprecht from the University of London with her poster "Tectono-Stratigraphic Evolution of the Centaur 3D Survey, Exmouth Plateau, North West Shelf Australia," and first place was awarded to Clint Miller from Rice University with his poster "Low Methane Concentrations in Sediment along the Siberian Slope: Inference from Pore Water Geochemistry."
Other UH faculty and student presentations at this meeting are listed at: www.eas.uh.edu/news-events/assoc-meetings/GCAGS/2015.php