Margarete Jadamec Recognized as Outstanding Reviewer by Earth and Planetary Science Letters

Outstanding Reviewers Comprise the Top 10th Percentile in Terms of Number and Quality of Reviews Completed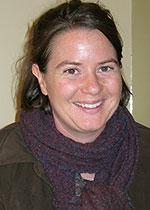 Margarete Jadamec, assistant professor in the Department of Earth and Atmospheric Sciences, was recognized as an outstanding reviewer by Earth & Planetary Science Letters (impact factor: 4.724). Elsevier, the publisher of EPSL, recognizes outstanding reviewers as those reviewers in the top 10th percentile for the quantity and quality of reviews over a two-year period.
Jadamec's research interests include plate tectonics, slab-driven mantle flow, 3D immersive data visualization, and numerical modeling. She uses high-performance computing run on hundreds to thousands of cores to model the geodynamics of plate boundaries.
Her geodynamic models are the first to explain the enigmatic location of the tallest mountain in North America, Mount McKinley, the mountain recently renamed Denali by President Barack Obama.
Jadamec has also conducted field research in the remote Brooks Range of Alaska, located within the Arctic National Wildlife Refuge. She joined the department in 2014 following postdoctoral positions at Brown University and overseas in Australia at Monash University.