Faculty Member William Sager Co-Edits Volume on Oceanic Plateaus

Volume Published by Geological Society of America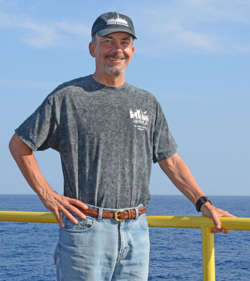 Department of Earth and Atmospheric Sciences marine geophysics professor William Sager co-edited a 17-chapter volume entitled "The Origin, Evolution, and Environmental Impact of Oceanic Large Igneous Provinces" with Clive Neal (University of Notre Dame), Takashi Sano (National Museum of Nature and Science, Japan) and Elisabetta Erba (University of Milan). The volume was published as special paper number 511 by the Geological Society of America in May 2015.
Oceanic plateaus – not well recognized until the 1980s – have high scientific importance because the magmatism associated with these features cannot be directly related to plate tectonics and because the massive volcanic eruptions that created them may have had global environmental consequences.
This volume takes a multidisciplinary approach to understanding the origin, evolution and environmental impact of large igneous provinces (LIPs) in ocean basins. The 17 chapters focus on plate tectonic reconstructions, petrologic and geophysical investigations of various LIPs, and sedimentological and micropaleontological evidence of coeval sediments.
Data and samples from dredging cruises and scientific ocean drilling expeditions with which Sager has been involved since 1994 have made this volume possible. An outgrowth of this research was Sager's leadership of a team that in 2013 uncovered the largest single volcano on Earth, Tamu Massif, within the Shatsky oceanic plateau in the western Pacific Ocean.
Volume Description (GSA Store)
Related Article: Earth's Largest Single Volcano Ranks 11th in Discover Magazine's Top 100 List for 2013