Aziz' Project at Mueschke Cemetery Subject of GeoSpace Blog

Project Unites Geophysics with History to Find Burial Sites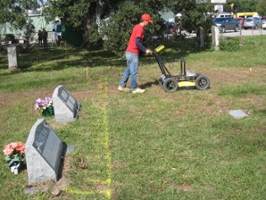 Azie Aziz, a graduate student in University of Houston's Department of Earth and Atmospheric Sciences, is helping locate unmarked burial sites in the historic Mueschke Cemetery. It is the site of several early Texans.
The work was the subject of the December 17 GeoSpace blog of the American Geophysical Union. Aziz and her team used ground-penetrating radar to help locate the unmarked graves. She presented the project this week at a poster session during the American Geophysical Union's (AGU) Fall Meeting in San Francisco.
GeoSpace is a blog on Earth and space science, managed by AGU's Public Information staff. The blog features posts on relevant science topics, with a focus on new research and geo and space sciences-related stories that are currently in the news.