Statoil's Doré Presented at Annual Sheriff Lecture

Talk Covered Arctic Tectonics and Petroleum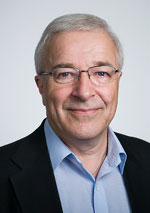 The Houston Geological Society, in tandem with the University of Houston Department of Earth and Atmospheric Sciences and the UH Geoscience Alumni Association, hosted the 16th Annual Robert E. Sheriff Lecture Series on Monday, November 17. The event was held at the Hilton Houston Westchase at 9999 Westheimer Rd.
This year's speaker, Tony Doré, presented "The Arctic - A Tectonic Tour through the Last Petroleum Frontier." Doré serves as the senior advisor to exploration management with Statoil.
He spent the afternoon prior to the lecture visiting and sharing his insights with about 25 faculty and students at the EAS department. Many of the same students presented at the EAS student poster session featuring 50 posters. The poster session was held before the dinner and lecture.
He obtained his Ph.D. from University College London and joined the petroleum industry in 1977. He has held senior technical and leadership positions with Statoil for 19 years, including vice president of North America from 2008 to 2011, and is currently based in London.
Doré has worked petroleum provinces all over the world, with an emphasis on NW Europe, the Arctic and the Americas. He has published on stratigraphy, NE Atlantic-Arctic evolution, basement reactivation, basin modelling, passive margin structure, hyperextension, exhumed petroleum systems, and exploration risk analysis.
He has edited books on basin modelling, resource quantification and passive margins. He served as editor-in-chief of the journal Petroleum Geoscience between 2006 and 2009.
Doré was chairman of the Geological Society Petroleum Group from 2001 to 2003, chaired the 2003 Petroleum Geology of NW Europe Conference and edited the subsequent proceedings (2005). He is on the advisory boards of several universities and currently holds an Honorary Professorship at Durham University.
His awards include the Petroleum Group Medal in 2006, Order of the British Empire in 2010 for services to geology and the AAPG Special Award in 2011.