Field Camp Endowment Brings Classroom Learning to Life

The Bartas' Endowed Scholarship Will Impact Geoscience Undergraduates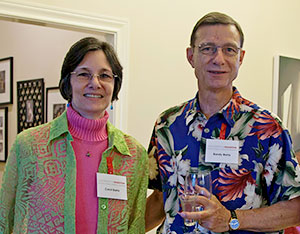 Sometimes in college, an event stands out as the point when all the hard work and learning comes into focus. For Randy Barta (B.S. '76, Geology), that happened at the University of Houston Geology Field Camp.
"It was one of the most enjoyable and rewarding experiences of my college life. Field camp brought to life what I had learned in the classroom and brought it all together for me," said Barta, who has spent 38 years working as an exploration geologist generating drilling deals and new venture projects for various independent oil and gas companies as an employee, a consultant and a company owner.
Being able to see the rocks and how the geology interacted with them in the field proved to be the most valuable part of his education. For Randy, the knowledge gained from his professors and the discipline he learned in completing a task proved to be indispensable in his professional life.
Because of that experience, Randy and his wife established the Carol and Randy Barta Geology Field Camp Scholarship Endowment. It is important to them that other students are able to enjoy the field camp and learn from it without the distractions of the outside world.
"We hope this scholarship endowment will allow students to experience field camp who otherwise might have a difficult time coming up with the finances to attend, especially since it is a required course for a geology degree," Randy said.
The Bartas, who have been making donations to UH every year for 27 years, established the endowment in 2014 as a lasting way to impact the lives of undergraduates pursuing a geosciences career.
"If you received a degree from UH College of Natural Sciences and Mathematics and have been blessed in life, think about giving back," Carol said. "There are many fine programs that could use your support."
They both feel that gifts to NSM not only impact a student's life but also society.
"You give to those in need if you have the capability, and remember those who gave you the capability to give," Randy said. "The best way to continue what UH has given us is to help UH pass that on to someone else. So we give, that someone else may have the many opportunities that our education at UH has afforded us."
- Kathy Major, College of Natural Sciences and Mathematics