Geology Ph.D. Student/Reserve Soldier Excels in U.S. Army Reserve Best Warrior Competition

Grueling Week-Long Competition Held in New Jersey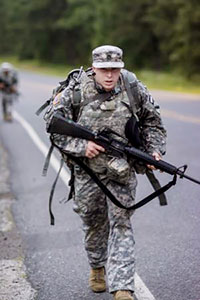 Timothy J. "Jak" Kearns, an Earth and Atmospheric Sciences Ph.D. student in geology and a reserve combat engineer, non-commissioned officer and trainer in the 75th Training Division in Houston, excelled in the grueling Army Reserve Best Warrior Competition. The contest was held June 21-28, 2014, at Joint Base McGuire-Dix-Lakehurst, a large U.S. Army training base in New Jersey.
The week-long competition tested physical stamina and mental toughness with distance ruck marches and other warrior tasks in full combat gear, marksmanship competitions on the rifle range, and sleepless nights spent in the swampy woods of New Jersey. Only about 50 of the top reserve soldiers of the U.S. Army qualified to compete.
Sergeant First Class Kearns served as a combat engineer in Iraq in 2003 and 2004 where he destroyed IEDs, or improvised explosive devices, that included buried artillery shells. For his Ph.D. at UH, Kearns is currently working with Professor Guoquan "Bob" Wang on the HoustonNet project that uses GPS data to assess buried hazards beneath the city of Houston that include active faults, aquifers and mobile muds. Through the Army Reserve, Kearns trains soldiers in the Houston area who are preparing for active duty.
Read the article, "The Threat Beneath the Ground: Geologist Competes in Army Reserve Best Warrior Competition," written by Sergeant First Class Michel Sauret, for the Defense Video and Imagery Distribution System (DVIDS).