Stiff Competition Does Not Deter UH Undergrads from Entering the Big League at AAPG

Students Present Posters in Session Open to Professionals and Industry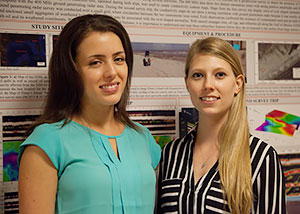 Krupnik and HaynieTwo University of Houston Department of Earth and Atmospheric Sciences undergraduate students showed they can stand shoulder to shoulder with seasoned professionals in one of the premier technical meetings in the geosciences.
Kirstie Haynie and Diana Krupnik, also members of UH's Honors College, did not enter the student poster competition at the American Association of Petroleum Geologists (AAPG) Annual Convention and Exhibition. Instead, they entered the general program open to professional, academic and industry researchers.
"I submitted to the general program because I felt it would be a unique privilege to present my research alongside industry professionals," said Krupnik, who will graduate in August and pursue a Ph.D. in geology at UH. Her project involved mapping vegetation and rock alterations in and around oilfields using hyperspectral remote sensing for finding hydrocarbon microseepages that indicate undiscovered resources.
Out of more than 1,400 oral and poster applications, AAPG selected about 850 for presentations. All posters were peer reviewed by at least five reviewers and, in many cases, by well over 10 reviewers.
The two posters submitted by Haynie and Krupnik were chosen for the general program session. At a time when many in academics and funding agencies are pushing undergraduate research, these two students made UH proud.
"My experience at the AAPG general poster session gave me an opportunity to speak with professional geoscientists; their comments and suggestions were beneficial," said Haynie, who will graduate in May and begin work in the fall on a Ph.D. in geophysics at UH.
Haynie's project involved the investigation of buried weathered hydrocarbons, such as tar balls, along Elmer's Island, Louisiana, using NASA's airborne radar remote sensing data and Ground Penetrating Radar surveys. Her work confirmed the presence of subsurface weathered oil.
Both projects investigated the environmental footprints of oil leakage. Krupnik's research enhanced the ability to locate naturally seeping oil and where new reserves could be found whereas Haynie's project looked for the traces of an oil spill that may be naturally hidden.
"Kirstie and Diana did an excellent job with their research projects and in preparing their posters," said Shuhab Khan, associate professor of geology and undergraduate advisor for Earth and Atmospheric Sciences. "Now, some of the folks from industry who saw their posters at AAPG are contacting us and asking to set up collaborations."
The convention took place at the George R. Brown Convention Center in Houston, April 6-9.