Murphy Receives Top Honors from UCLA and GSA

Recognized as UCLA Distinguished Alumni and GSA Fellow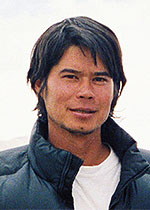 The University of California, Los Angeles, named Michael A. Murphy, associate professor of geology, as recipient of its 2013 Earth and Space Sciences Distinguished Alumni Award. Murphy, a native of California, received all three of his degrees in geology from UCLA (B.S., 1993; M.S., 1997; and Ph.D., 2000). Murphy has been a member of the Department of Earth and Atmospheric Sciences faculty at the University of Houston since 2000.
In October 2013, he traveled to UCLA to deliver his distinguished alumni lecture, "Mapping the Roof of the World," to an audience of geosciences alumni and current UCLA undergraduate and graduate students and faculty, including his former Ph.D. advisor, UCLA Professor An Yin.
He received a second honor in late October at the Geological Society of America's (GSA) 125th Anniversary Annual Meeting & Exposition in Denver. Murphy was named a 2013 GSA Fellow in recognition of his distinguished contributions to the understanding of tectonics of the Tibetan plateau and Himalayan mountain range.
He has published more than 50 articles on research results from this region, most recently in the journal, Nature Geosciences. In 2010, he received the UH College of Natural Sciences and Mathematics John C. Butler Teaching Excellence Award, and in 2011, he received the UH Provost's Core Teaching Excellence Award.
Since coming to UH, he has been the primary supervisor of 23 Ph.D. and M.S. students, many of whom worked on their field-based research in the area of the Tibetan plateau and Himalayan mountains.