Stewart Selected for NSM's Excellence in Teaching Awards

Award Recognizes Faculty who Inspire, Engage and Challenge their Students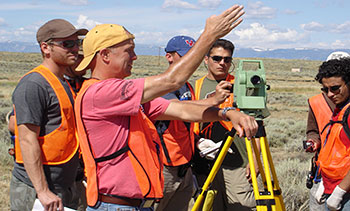 Inspiration, passion, hands-on, mentor – these words have all been used to describe the 2013 winners of NSM's John C. Butler Excellence in Teaching Award.
Robert Stewart, professor and Cullen Chair in exploration geophysics, is one of the 2013 recipients of the Butler Excellence in Teaching Award. Established in memory of former NSM Dean, John Butler, the award recognizes faculty members who best engage and challenge their students and who share their enthusiasm for the subject matter they teach. Simon Bott, instructional professor of chemistry, is the other Butler award recipient.
Each year, the Butler award goes to one tenured/tenure-track faculty member and one instructional faculty member and includes a $5,000 prize. Stewart and Bott received enthusiastic letters of nomination and support from faculty members, current students, and former students.
Stewart, on the UH faculty since 2008, is praised by both faculty and students for his professionalism, flexibility, mentoring, and passion for involving students in field studies. He always strives to improve the student experience and has created several new courses, including the Geophysical Field Camp and graduate classes in geophysical data acquisition and multicomponent seismic processing. Stewart also directs the Allied Geophysical Laboratories at UH and is collaborating with UH engineering colleagues on a textbook covering "Unconventional Energy Resources."
Letters in support of Stewart's nomination recognized his generosity with both his time and energy, describing him as a professor who "constantly challenges his students with real-world problems and pushes them beyond their comfort zone." His courses are not "merely tests of one's memory, but challenging assignments intended to be lasting lessons." Nominations also pointed out that his sense of support and enthusiasm encourages his students to perform at their best.
Stewart's award was announced at the NSM Tribute to Scholars, Leaders and Partners in Excellence Luncheon.
- Kathy Major, College of Natural Sciences and Mathematics