Graduate Student Symposium Held December 7

More than 45 Graduate Students Delivered Presentations or Posters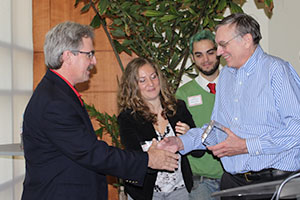 Dean Mark Smith and the President of Bioscience Graduate Society Efrosini Tsouko present "The Tree of Life" award to Dr. George Fox. (Photo credit--all photos: Lara Appleby)The 4th Annual Graduate Student Symposium organized by the University of Houston's Department of Biology and Biochemistry and the BioScience Graduate Society (BSGS) took place December 7 at Elizabeth D. Rockwell Pavilion. More than 45 graduate students from the department had the opportunity to present their research and participate in the poster session.
Dan Wells, department chair, presented awards for best presentation and best poster. A publication competition also provided information about the quality of the research performed at UH's Department of Biology and Biochemistry. In 2011-2012, more than 15 articles were published in high-impact peer reviewed scientific journals where graduate students from UH where first authors or co-authors.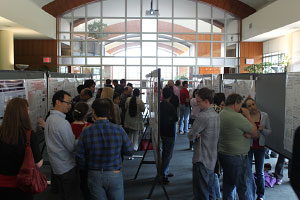 Students and faculty discuss research projects at the symposium's poster session.As a new addition to the symposium, graduate students nominated George Fox, the John and Rebecca Moores Professor of Biology and Biochemistry, as an honored speaker and awarded him the crystal of "The Tree of Life" for his major contribution in life sciences with the discovery of Archaea and 5S rRNA secondary structure. Dean Mark Smith of the College of Natural Sciences and Mathematics presented the award to Professor Fox.
The biology and biochemistry department at UH consists of 45 tenured or tenure-track faculty. A combination of high-profile scientists and latest technology infrastructure provide a unique environment for research conduction and mentoring of young scientists.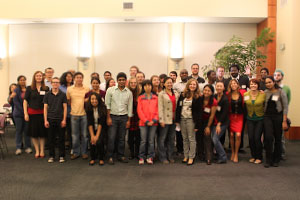 The future scientists!In 2011-2012, biology and biochemistry faculty and graduate students received additional grants from agencies such as NIH, DOD, NSF and CPRIT to support their research. The 4th Annual Graduate Student Symposium was a celebration of science and part of the recognition for excellence in research at University of Houston, a Tier One Research University.
The symposium was organized by Associate Chair for Graduate Affairs Dr. Ricardo Azevedo and Graduate Academic Advisor Rosezelia Jackson in collaboration with the BSGS officers: President Efrosini Tsouko, Vice President Rebecca Satterwhite, Secretary Iris Smith, Treasurer Fotis Nikolos, Events organizer Bina Dao, Webmaster Benjamin Lewis.
- Efrosini Tsouko, BSGS President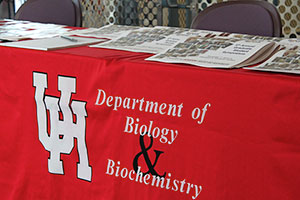 The booklets and the pride.