Much has changed about the way students learn and practice architecture. Once, drawings and illustrations were completely rendered by hand. Now, graduate students - such as those at the University of Houston's Gerald D. Hines College of Architecture - use cutting edge computer software to study the intricacies of the craft.
The tools used in architecture education have evolved into the 21st century. Many classroom work areas, however, are occupied by drafting stations that take up space and are impractical for laptop use. Thanks to UH adjunct assistant architecture professor Cord Bowen, students and instructors soon will have access to classroom resources perfect for grooming tomorrow's architects.
With the assistance of a $10,000 grant from the Meadows Foundation, Bowen and students from the college's industrial design studio (including research assistants Mason Bonar and Sarah Liu) developed the desk system Workspace and compact, mobile dry-erase/cork board Rollerboard. Both are aimed at providing classroom space solutions while offering faculty and students effective instructional resources.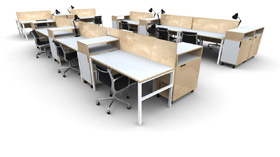 Workspace is a modular desk system that is ergonomically efficient for computer use and will help the college grow without adding new classrooms or facilities.
By videotaping classroom activities and interviewing students, Bowen and his team came up with a design to accommodate the needs of architectural scholars.
"Students do need drafting tables during their first year of graduate school. As they move through the program, their work is more computer-focused.  Through our research, we were able to see exactly what these students need," Bowen said. "What we found is that we could make a smaller footprint for each student. This interested the university because we could grow the graduate program without adding facilities. We found that Workspace units can grow the program by 30 percent."
In fall 2011, the College of Architecture will receive an initial supply of 17 Workspace desks to be used by third year graduate students. At the end of that semester, Bowen's team will interview the students who used these spaces to determine if modifications need to be made.
Workspace units are 29 inches wide and 59 inches long and contain built in storage spaces. Units can be arranged individually or in rows to accommodate different classroom layouts. All materials used to make Workspace are 100 percent recyclable.
"Making these in Houston helps us keep costs down," Bowen said. "We save about 40 percent by producing these in town rather than purchasing new desks elsewhere. Plus, they're durable and sustainable."
Bowen's Rollerboard also is produced in Houston. He and his students designed this wheeled instructional tool, so that it would be easy to transport from classroom to classroom. Also, the Rollerboard's design allows multiple units to be stacked vertically for easy and effective storage.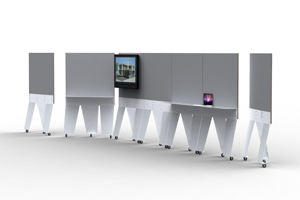 One side of the Rollerboard is a dry-erase board on which lecturers and students can write notes with a marker. On the opposite side is a cork board where students can post presentations or other items using push pins. The Rollerboard is six feet and seven and a half inches tall and three feet and 10 inches wide. It can be used as a singular unit or combined with other modules for larger presentations or use as a projection screen.
"What we wanted to do was create a board that was not cumbersome and could easily be brought into a classroom," Bowen said. "After looking at how professors use boards for diagrams and notes, we found that between 40 and 48 inches was what they use. We also looked at how a board could fit in elevators and how it could easily roll in buildings or around campus."
Four Rollerboard prototypes are being used in the College of Architecture. Bowen is hopeful to populate all of the college's classrooms with Rollerboards in the next two years. Other UH colleges also have expressed interest in using them, he said.
Steelcase, a leader in classroom furniture design, provided research and design support. Manufacturing support was provided by longtime Houston-based furniture manufacturer Brochsteins. Industrial design students who contributed to the development of Workspace and the Rollerboard were Addie Ballentine, Leo Chen, Alekos Kinalidis, Franky Liu, Frank Martin, Chukwonoso Ofili, Mariel Pina, Jared Thorn, Alfonso Villafuerte and Rachel Young.
Both Workspace and Rollerboard are on display at the UH Green Building Components Expo through Dec. 1. The exhibition features projects and designs focused on sustainability that were developed by UH architecture faculty and students.
---