Green minds think alike. Houstonians will learn this firsthand during the second annual University of Houston Green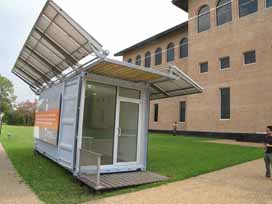 Building Components (UHGBC) Expo. The exhibition's opening is from 5 to 7 p.m., Oct. 21 in the UH Gerald D. Hines College of Architecture's atrium. The UHGBC Expo runs through Dec. 1. Members of the college's talented faculty will showcase new sustainability-focused projects and products. Among the items to be showcased are:
Galveston Green Build, a new construction system for elevated Gulf Coast recovery housing.
Eco Path, a modular garden pathway system (in compliance with the Americans with Disabilities Act) of interlocking modules with rainwater storage.
Nexus Power Cart, a wheeled battery power source to provide mobile power while promoting conservation and renewable energy generation.
Workspace, a triple bottom-line-based design space focused on modularity and sustainability that can be used in the UH College of Architecture studios and similar applications.
Gro-POD, a low cost modular raised bed gardening system capable of singular or multiple-modular use on any surface to promote container gardening for everyone.
Sun-Stop Solar Service Station - a multi-functional, grid-connected, PV-powered service station that is primarily used as an electric vehicle charging station. It also provides a variety of auxiliary services that benefit the community and end-user.
I-BMS / Intelligent Building Management Systems, a National Science Foundation grant finalist to develop an active building management system integrating genetic algorithmic control system logic, integrated wireless sensor networks and social-network based "crowd sourcing" to increase building energy efficiency.
Solar-Powered Adaptive Container for Everyone (SPACE), a recycled shipping container transformed into a functional work or living space.
At 6 p.m., George Beylerian, founder and CEO of Material Connexion, will deliver a short lecture. Material Connexion combines the talents of multidisciplinary experts to bridge the gap between science and design to create practical manufacturing solutions.
WHAT:
2010 Green Building Components Expo
WHEN:
Oct. 21 - Dec. 1 (Opening reception, 5 - 7 P.M., Oct. 21)
WHERE:
UH Gerald D. Hines College of Architecture - Gallery
Entrance 16 off of Cullen Boulevard
Houston, Texas 77204
WHO:
Gerald D. Hines College of Architecture
---