TOP STORIES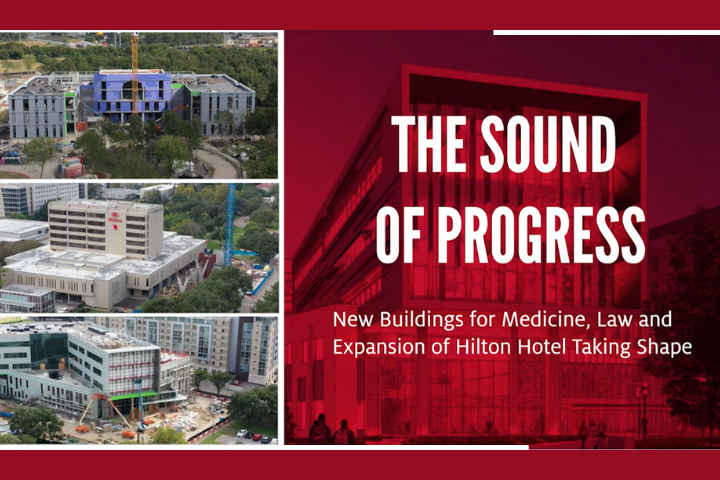 The Sound of Progress
While noisy at times, the construction of new buildings for the College of Medicine and the UH Law Center, and the expansion of the Hilton University of Houston, signify a new era of growth for the UH community. Read more …
---
Spann: Omicron Variant Update
Dr. Stephen Spann, founding dean of the College of Medicine and vice president for medical affairs, provided an update on the status of the omicron variant and reiterated UH leadership's commitment to taking whatever steps are recommended to maintain a safe and secure campus. He also provided recommendations to keep one another safe and healthy during the ongoing pandemic. Read more …
---
Ren, Chen and Han Earn Distinction for Cross-Field Performance
The 2021 Highly Cited Researchers™ ranking includes three UH researchers, Zhifeng Ren, M.D. Anderson Chair Professor Department of Physics, Shuo Chen, associate professor of physics, and Zhu Han, Moores Professor of electrical and computer engineering. This elite group is recognized for their exceptional research influence, demonstrated by producing multiple highly cited papers that rank in the top 1% by citations for field and year in the Web of Science™. Read more …
---
International Friendship Program Commemorates 50 Years
The International Friendship Program in the International Student and Scholar Services Office commemorated 50 years of pairing international students with local families. Over the last 50 years, more than 3,000 students and scholars have participated in the program. Read more …
---
Houston Posts Another High Mark in Graduation Success Rate
According to the NCAA's Division I graduation success rate data, UH student-athletes combined to post a 79 percent Graduate Success Rate. Seven of 17 UH sports programs were at a mark of 80 percent or better. Read more …
---
Our People
UH

 is contributing to the energy transition through its research efforts on superconductors. The Super Cool Conductor from 

UH's Selva Research Group was recently one of ten competitors to win the first stage of the U.S. Department of Energy's prestigious CABLE Prize. Venkat Selvamanickam, M.D. Anderson Chair Professor of Mechanical Engineering, is the director of the Advanced Manufacturing Institute and head of the Selva Research Group. Read more.
At the first in-person 50-in-5 celebration event, 116 faculty were honored at the Wortham House Monday, Nov. 29. President Renu Khator, Provost Paula Myrick Short and Vice President for Research Amr Elnashai recognized faculty achievements in Year 2 and Year 3 of UH's 50-in-5 Program. Read more.
The McGovern College of the Arts and the College of Medicine, in partnership with the World Health Organization, will host the "Healing Arts Houston: Innovations in Arts and Health" conference on Jan. 20-22. The innovative, international conference will convene the brightest and most creative minds working at the intersection of arts and health in Houston. Registration is now open. Read more.
The Institute for Intellectual Property & Information Law's 2021 fall lecture featured a robust discussion on navigating multiplexed technology transfer based on the research of noted intellectual property scholar Angela Rinehart.  Read more.
Jiming Bao, professor of electrical and computer engineering, has developed a new fluid that can be cut open by light. The discovery has potential applications in adaptive optics, mass transport, and microfluidics manufacturing and molding of micro and nanostructures. Read more.
According to a study led by College of Nursing Clinical Assistant Professor Sonya Cox, DNSc, APRN, RN, FNP-BC. The COVID-19 pandemic has exacerbated and further exposed the problem according to the study. Read more.