Nurse-managed Health Clinic Receives Continued Support for Midtown's Homeless
June 24, 2022
By Dennis Spellman
The University of Houston College of Nursing's nurse-managed health clinic is receiving a $30,000 grant from the Texas Methodist Foundation to support its work with homeless populations in Houston's Midtown.
"This is a continuation of funding that started with a $60,000 Texas Methodist Foundation grant last year," said Shainy Varghese, associate professor of nursing, nurse practitioner and clinic director. "We are extremely thankful for the Texas Medical Foundation's continued support and confidence in this groundbreaking clinic."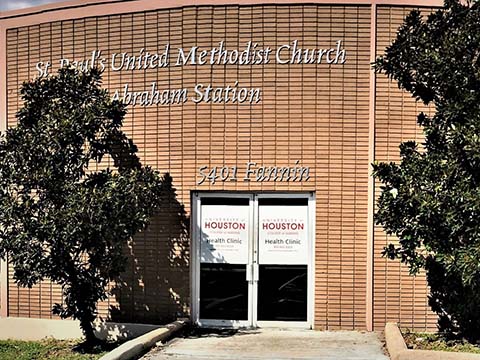 Located at 5401 Fannin Street at St. Paul's United Methodist Church, the clinic draws clients from those who come to a feeding station located at the church and a clothing center operated by the Emergency Aid Coalition housed at the Abraham Station.
The Texas Methodist Foundation grant will pay for clinical staff and nurse practitioner salaries.
"We also are hiring nursing students to work at the clinic to provide help with the intake process," Varghese said. "We are planning to hire more students in the fall. This gives them primary care experience especially with the homeless population. We had two events were the students from the UH Law Center and the UH College of Optometry participated."
The clinic is open one day a week, but will expand its hours to two days per week in the fall. Other activities include regularly scheduled blood pressure clinics and health fairs provided in partnership with the UH Law Center and College of Optometry.
In the future, those who visit the clinic with intricate medical conditions can schedule telehealth visits and be treated virtually by a physician or nurse practitioner working at another location.
The UH College of Nursing health clinic opened its doors in the fall of 2021. Nurses and nurse practitioners provide wellness exams, acute and chronic conditions management, and treatment of minor injuries, colds and flu.
"I thank Texas Methodist Foundation for their continuous support, and the trust in us with this groundbreaking project. It shows how much they value this project for the hard-to-reach population," Varghese said.
Read more