UH/HCC Engineering Academy Student, Team Win Top Placements in NASA Design Challenge
February 14, 2022
By Dennis Spellman
When Astronauts eventually live on Mars, they may be sleeping on a bed designed by a University of Houston/Houston Community College Engineering Academy student and his teammates.
Cyrus Abbasi and teammates Yasmin Soltani, Bryant Tovar Hurtado, and Talha Iftikha placed third in the Texas Space Grant Consortium NASA Design Challenge. It was a tremendous accomplishment for members of Team Eagle.
"It was a statewide competition among Texas students, and we competed against senior students who have previously done this challenge," said Abbasi, a mechanical engineering student at the UH/HCC Engineering Academy.
The UH/HCC partnership is in its second year at UH at Katy near the Grand Parkway and I-10.
"We were surprised to go to that level. We pretty much beat every big-name university in Texas," Abbasi said.
Teams taking part in the NASA Challenge proposed solutions to real problems faced by NASA.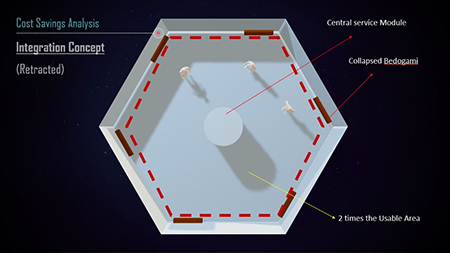 "We were asked to design an overall habitat for the first mission to Mars or find an aspect of the habitat that we could help NASA improve," Abbasi said.
Team Eagle, with just four members, was small compared to its competition and they had just two months to complete the project. So, rather than improving the whole living environment, they decided to improve upon one aspect of the living quarters—the beds.
Transporting a large, heavy, steel or aluminum bed frame on a rocket would be difficult and costly for NASA, so Team Eagle decided to solve that problem.
"NASA will spend millions of dollars per pound transporting things to the Mars surface," Abbasi said. "Our goal was to make a bed that was more efficient as far as weight and volume are concerned."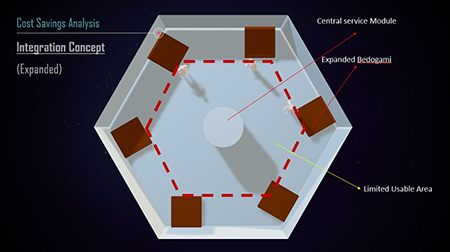 Steel or aluminum was too heavy, and the size of a traditional bed frame was too large. They needed a new material that would be light and collapsible.
"We use a decision matrix, and we landed on origami," Abbasi said.
Origami is the art of paper folding. While paper can't typically hold the weight of an astronaut, Team Eagle learned that origami makes paper solid, collapsible and strong. It's easy to transport and store when not being used.
Every great invention requires a great name.
"We called it 'Bedagami,'" Abbasi said.
Abbasi says Bedagami could also be used in hospitals, or emergency COVID-19 treatment centers when patients exceed available beds. The light and collapsible bedframes could be easily stacked and stored until needed.  
Students who attend the University of Houston/Houston Community College Engineering Academy take UH engineering classes at UH at Katy, and the physics, calculus, chemistry and other core courses at the HCC Katy Campus. It's a less expensive way to earn the first two years of a UH engineering degree, and also stay local, have smaller class sizes and access the resources, student services and activity of both institutions.
Following completion of their two years at HCC, Engineering Academy students become part of the UH Cullen College of Engineering undergraduate degree program. It's a goal that Abbasi says he must achieve.
I worked seven years in the analytics and automation industry," Abbasi said. "Even though I was doing a lot of engineering design, I did not have a degree, and it stopped me from growing in my career. So, I quit my job to get an engineering degree," he said.
Earning a bachelor's degree and participating in another NASA challenge are both goals he plans to accomplish.
"We have expanded our team from four to eight members," Abbasi said. "In the next competition we will propose the most efficient way that these beds can be mass-produced."
He's as confident about his future career as he is about the next NASA competition.
"We're planning on winning first place."
Read more