UH Nurse-Managed Health Clinic Uses Smartphone COVID-19 Test Created By UH Alumni
By Dennis Spellman
December 7, 2021
A first-of-its-kind smartphone-based rapid COVID-19 test, invented by two University of Houston graduates, is quickly becoming a valuable tool at a Midtown Houston clinic operated by the University of Houston College of Nursing.
The Clip COVID Rapid Antigen Test was invented by Andrew Paterson and Bala Raja under their corporate name of Luminostics, Inc. The UH graduates received Emergency Use Authorization from the FDA in December 2020. Since then, the device has been utilized across the United States. In September 2021, the company change its name to Clip Health.
A smartphone is connected to a device that analyzes nasal swab nanoparticles to determine if a person has COVID-19.
The UH College of Nursing is the first UH health professions college to use the home-grown technology.
"When we have patients who have COVID-19 symptoms we can test them and get the results in 30 minutes, said Shainy Varghese, UH associate professor of nursing, clinic director and nurse practitioner.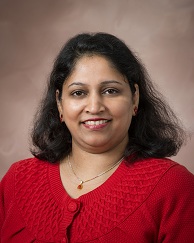 The clinic serves the homeless and working poor and is located at the Abraham Station on the campus of St. Paul's United Methodist Church, 5401 Fannin Street.
Varghese says while the clinic is not a COVID-19 testing site, the Clip COVID Antigen Test is an economical way to quickly determine if a patient is infected with the virus.
"The test is for the protection of our employees," Varghese said. "If patients are negative, they can be seen by our provider."
The Midtown clinic began using the device in November 2021. In the first three weeks of use, all results came back negative, meaning every patient who was suspected of being infected with COVID-19 was safe to treat.
Varghese is overseeing the training and administering of the new test to those clinic patients who require it.
"It's working," she said. "It's cost effective. We don't have to send swabs out to labs for results. It does not require a lot of space, and we have results quickly."
She says it's also easy to use.
"It's self-explanatory. When we turn the phone on, it provides instruction on how to use it. There are a lot of apps, but I have never used a test like this," she said. "And I'm excited that we can use something that is developed by UH alumni. I'm so proud of that. It speaks to the strength of the University of Houston."
Varghese also believes the device will soon be used to test patients for influenza.
Clip Health plans to offer an over-the-counter mobile app that is low-cost and re-usable for COVID-19 testing and influenza A/B testing. The company also plans to manufacture low-cost and reliable testing devices for numerous infectious and chronic diseases, metabolic disorders and endocrine disorders.
Clip COVID's emergency use authorization in December 2020 closely followed the award of a $26.1 million contract by the National Institutes of Health and Biomedical Advanced Research Development Authority.
Read more