UH College of Nursing Doctor of Nurse Practice Program Completes First Semester With Cohort Of Experienced Family Nurse Practitioners
By Dennis Spellman
December 6, 2021
The inaugural cohort of the University of Houston College of Nursing's Doctor of Nurse Practice (DNP) program is completing their first semester. Students are experienced nurses who believe the program will elevate their service to others.
"I want to have the ability to critically analyze clinical research, clinical policies, and healthcare policies that affect the course of treatment of the patients within the clinical setting," doctoral student Fidelia Selormey said.
Previously, earning a Ph.D. was the highest level of education for nurses. Today, the Ph.D. is reserved for nurses who focus on research, and the DNP is the highest level of education for practicing nurses who work in a clinical setting.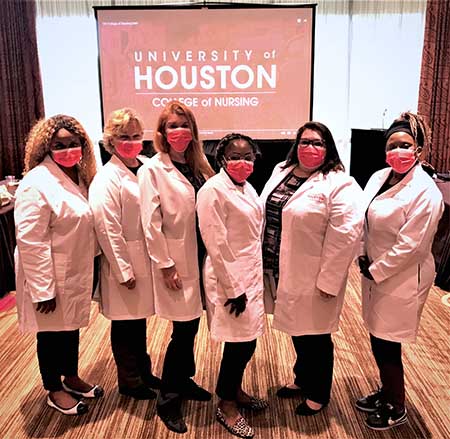 "The DNP is a practice doctorate and is relatively new in our profession," said Kathryn Tart, founding Dean and UH College of Nursing professor.
Tart says the nursing profession is transitioning from relying on master's degree programs as the highest level of education for practicing nurses. She believes it's important to have more advanced practice nurses with DNP degrees.
"You just can't teach everything in a baccalaureate program," she said.
The DNP degree aligns nursing with other healthcare professions that require a doctoral degree such as pharmacy and physical therapy. The UH DNP program is a part-time, post master's designed for working nurses. It has two emphasis areas, family nurse practitioner and nursing administration.
Selormey works full-time as a family nurse practitioner while studying for her DNP. She travels through rural areas providing health insurance evaluations and risk assessments. Being a family nurse practitioner with a DNP will allow her to better serve her patients.
"I want to be able to be a health care advocate for my patients, join health care boards that matter, and help patients who are in need. The welfare of the patient is what matters to me."
Student Courtney Harris MSN, APRN, FNP-C is a UH alumna employed as a sole provider in a rural area. She believes the education provided by the UH DNP program will allow her to improve her skills as a nurse and administrator.
"I returned to the University of Houston to be part of the inaugural class for the doctoral program because I knew, first-hand, the incredible education I will receive from the professors who are pioneering this program," Harris said.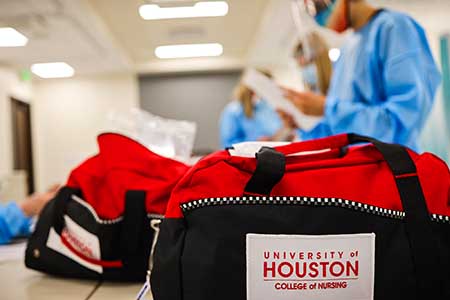 Alumna Debra Bayliss also selected the program based on her previous experience with the UH College of Nursing.
"I waited for UH to have a DNP program primarily due to the excellent education I received during my master's program," Bayliss said.
Student Arlena Davis, MSN APRN NPC, did not let her age stop her from pursuing the highest level of nursing education.
"At 54 years old and already doing well as a nurse practitioner working in psychiatry, I felt like my academic career was complete," Davis said. "Still, the opportunity presented itself, and I knew I had to move forward," she said. "In my role as a DNP, my gift will be helping people understand mental health isn't something to be ashamed of but embraced. This acceptance will enable them to lead everyday lives."
Once Selormey earns her DNP, she hopes to open a family-care practice in a rural community which is traditionally underserved.
"Sometimes patients don't have refills of medications for months, Selormey said. "People need health care, especially the elderly population, and they need it now."
According to Dean Tart, studies show that having more nurses with advanced degrees in the nursing field will save lives.
"Research shows there are fewer deaths and better patient outcomes for those who are treated by nurses with advanced degrees," Tart said. "We want our nurses to be nurse practitioners and nurse administrators at the highest level."
Read more