Continuing Education and Training for Nursing Professionals: Contact Tracing Program through Coursera
October 26, 2020
To help curb the spread of the Covid-19 virus, the University of Houston College of Nursing is offering an online contact tracing program specifically for health care professionals.
The Contact Tracing for Nursing Professionals program is available through Coursera, an online learning platform for higher education. Registration is now open. The fee is $49. Participants may earn 10 continuing education units (CEU) for completing the course.
"We are pleased to offer this program for health professionals who already committed to the education, health and safety of their communities," said Kathryn Tart, professor and founding dean of the college. "Our faculty worked hard to tailor this course specifically for the interests of nurses."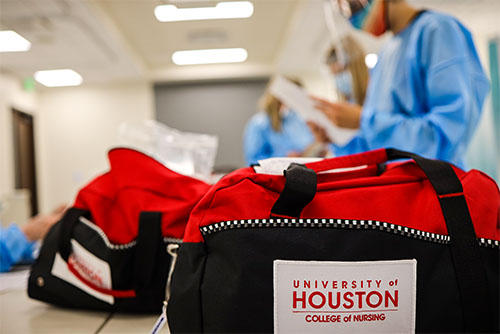 Contact tracers are trained workers who follow a specific process to connect with individuals who may be infectious or may have been exposed to infection. The contact tracer's role is important to educate and support individuals, as well as to curb the spread of infection.
Through 10 hours of self-paced instruction, health professionals will learn the basics of a pandemic, symptoms of Covid-19, and the actions and requirements of each step of the contact tracing process. Additionally, participants will learn how their new knowledge applies to other health care scenarios.
Those who are not looking for continuing education units may take the course with no charge.
"The fact that it is free (without CEUs) will be an additional benefit during these difficult financial times," said Katherine Thomas, executive director of the Texas Board of Nursing. "We're pleased to share this with nurses who are interested in expanding their knowledge base."
The Contact Tracing for Nursing Professionals program is comprised of four modules: an Overview of Covid-19, Public Health in the Era of Covid-19, Contact Tracing 101 and Ethical Issues and Special Populations. Each module is less than an hour in length, and includes reading assignments and quizzes.
The course is a nursing continuing professional development activity, and was approved by the Texas Nurses Association, an accredited approver by the American Nurses Credentialing Center's Commission on Accreditation.
To receive contact hours for this continuing education activity, the participant must complete a pretest, complete the four modules and earn a score of 80 percent or greater on the post-test in each module.
The course is taught by Professor of Practice Tracy McManaman-Bridges, Dr. Bettina Beech of the UH College of Medicine, and Dr. LeChauncy D. Woodard of the UH College of Medicine.
Participants who complete the Contact Tracing for Nursing Professionals course will receive a certificate of completion and 10 continuing education units (CEU).
For more information and to register, visit https://uh.edu/nursing/contact-tracer/
Read more