Nursing Prof Takes Digital Innovation Idea to Apple Bootcamp
March 6, 2020
Shermel Edwards-Maddox, professor of practice at the University of Houston College of Nursing, is one of 30 nurse educators from around the country selected to share ideas on digital innovation at the American Association of Colleges of Nursing (AACN) Digital Innovation Bootcamp: From Concept to Action.
The event is planned for April 27 – 30 in Austin, Texas and is in collaboration with Apple for the third year.
"It's a huge honor to be selected to work with both AACN and Apple to transform the way we engage our nursing students using digital content," Edwards-Maddox said. "I feel so fortunate to be one of the 30 applicants chosen for this nationwide."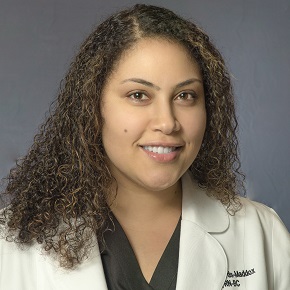 The AACN launched this initiative to provide new opportunities for nursing faculty who want to leverage the latest technology for classroom, lab, online and clinical-setting learning. Those selected will participate in sessions on preparing digital content, developing mobile apps and multi-touch books, and creating an engaging learning environment.
Each participant will bring ideas for innovative learning. Edwards-Maddox will share her ideas for a digital interactive nursing care plan that allows students to incorporate actual nursing interventions they would perform when caring for a patient in the hospital.
"The digital care plan would be intuitive, leading students to a patient's related medical history or possible pathophysiology based on the data that's been inputted," she said. "The digital app would provide tips on how to perform a nursing tasks correctly. It will have a similar look and feel to the electronic health record (EHR) found in the hospital setting."
She hopes to leave the workshop with a tangible product to use with students.
"Professor Edwards-Maddox epitomizes the nurse of the future, as educator and leader," said Kathryn Tart, professor and founding dean of the college. "She is creative in her methods to incorporate innovative technology to teach nursing students about patient care while emphasizing high tech – high touch. We are very proud of her selection to this distinguished group of nurse educators from across the nation."
Edwards-Maddox is both an instructor and an alumnus of the UH College of Nursing and its rigorous Second Degree BSN program. She said her digital care plan stems from her life as a student and a teacher at the college.
"Efficiency is a key concept for both students and faculty in an accelerated nursing program," she said. "Implementing this idea would reduce the amount of time students spend on these assignments, while encouraging them to get more out of the assignment."
After completing the digital project, Edwards-Maddox will present her idea at the annual AACN Nurse Faculty Conference in December in Chicago.
"I am so proud to represent the University of Houston and the college," she said. "This is an opportunity to showcase our innovative teaching strategies and add some new technological tools to our tool belt.
Read more