Higher Ed Talk Three Questions With: Auggie Campbell, President & CEO, West Houston Association
Feb. 26, 2020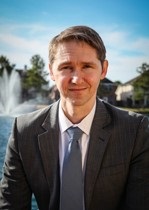 How do you see Katy's Energy Corridor responding to the academic and professional opportunities that the University of Houston at Katy presents?
As energy transitions, it will need a more creative, tech-savvy workforce to turn its challenges into opportunities. Energy corridor companies that facilitate classes at UH at Katy will gain access to a pipeline of ideas and talent close to home and attract a broader pool of talent seeking energy expertise.
What are some of the challenges and opportunities in the region, and how does higher education fit into those?
Other industries, including healthcare, logistics and manufacturing, are well placed to create pipelines at UH at Katy that will benefit Greater West Houston. Providing efficient access to port freight, energy services, healthcare and other resources and services, while keeping Greater West Houston an attractive place to live, learn and work, is both a challenge and opportunity for our region. Without UH at Katy and support from the community, Greater West Houston will have tremendous difficulty attracting the workforce and leaders required for our region to achieve its potential.
How does UH at Katy fit into the vision that the West Houston Association has for the region?
UH at Katy will fuel significant job growth nearer to our growing communities. Families aspire to move into safe, beautiful neighborhoods near the best schools and close to good jobs. Businesses seek locations with access to strong markets and the best available workforce. Katy ISD has the best public schools in the Houston region, and the other school districts in Greater West Houston are improving rapidly. If UH at Katy creates world-class educational pipelines in key sectors, the region will grow quickly and sustainably and grow more globally significant.
Read more