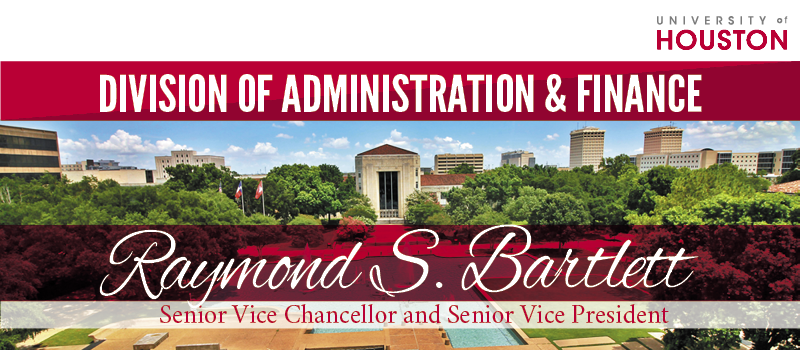 Comprised of Division features, accolades and achievements, as well as valuable "In Case You Missed It (ICYMI)" news you can use, each edition of the newsletter highlights key information and resources across the Division's departmental, operational and service unit areas. Subscribe to the A&F listserv.

Dear Colleagues:
This month, we welcome students to campus for the start of the new academic year. As part of these welcoming activities, a number of our staff will be volunteering at Cougar First Impressions, participating in Cougar Movers, and helping support parents and students in many ways during this transition. I am so grateful for the unwavering commitment of our divisional employees to student success.
I encourage all Administration and Finance employees to attend our division's contribution to university Weeks of Welcome activities, Behind the Badge, which will be at Butler Plaza and the Rockwell Pavilion from 3-6 p.m. on Tuesday, August 30th. This community engagement event will feature a police vehicle showcase, safety presentations, bicycle registration, mobile kiosk demonstration, and much more. Please join us in helping students feel welcomed and supported on campus.
As a division, we also celebrate the completion of significant milestone construction projects, including the Tilman J. Fertitta Family College of Medicine and the John M. O'Quinn Law Building. The successful opening of these new facilities was achieved through great teamwork and involvement from colleagues across Administration and Finance. I hope that you enjoy reading this month's feature story, in which we highlight contributions from departments throughout the division on these important projects.
Divisional leaders are also working hard to prepare for the A&F Staff Appreciation Event, scheduled from 12-2 p.m. on October 4th in the Student Center South. Please take a moment to visit the event web site and register to attend the luncheon. During this event, we will acknowledge and celebrate employees marking significant years of service milestones and recognize employees who have demonstrated exceptional service.
There are a number of other events and activities highlighted in this month's newsletter. I hope that you will take an opportunity to read about divisional updates and accolades.
I am grateful to each and every divisional employee and all that you do each and every day to support our community.
Highlights & Features
A&F's Role in Supporting the Opening of the New John M. O'Quinn and Tilman J. Fertitta Family College of Medicine Buildings

Two new buildings will join the University of Houston campus this fall semester and the construction took a university team effort that included many departments from Administration and Finance. The two buildings joining UH are the Tilman J. Fertitta Family College of Medicine and the John M. O'Quinn Law Building. Read more about A&F's involvement in getting the two new building projects up and running.

2022 A&F Staff Appreciation Luncheon

A friendly reminder to RSVP to the 2022 Administration and Finance Staff Appreciation Luncheon on October 4 at 12 pm. The luncheon is an opportunity for the division to celebrate and acknowledge the accomplishments of the A&F staff plus recognize employee service to the university.

Additionally, award nominations are in process across seven categories to provide recognition for meritorious service exhibited by Division employees. Learn more about the A&F Staff Appreciation Luncheon.

2022 Staff Council Awards Recap

For the first time in the University of Houston Staff Council history, the organization held an in-person Staff Council Awards ceremony to honor and recognize employee excellence at the University of Houston. Read more about the 2022 Staff Council Awards ceremony.

100 Years of Houston | Dr. Renu Khator (2007-2017)

Dr. Renu Khator is the first woman Chancellor of the University of Houston System and first Indian immigrant to lead a comprehensive research university in the U.S. She has led UH to become a top-tier university and continues to guide UH towards many institutional accomplishments including Phi Beta Kappa chapter, a Billion-dollar fundraising campaign, and the new Tilman J. Fertitta Family College of Medicine among others. For this and more fascinating stories in this series, visit houstonpublicmedia.org/100.

UH Fire Marshal's Office Acquires New Training Tool

The University of Houston's Fire Life & Safety department, with assistance from the university's Office of Emergency Management, are the new owners of a laser-driven fire extinguisher trainer. The device works by producing LED-driven digital flames that are then extinguished using an infrared-laser driven fire extinguisher. Learn more about Fire Life and Safety's new training tool and how to request a training.

UHS Facilities Forum 2022

UH System Facilities leaders and business partners gathered to collaborate, network and gain knowledge at the 2022 UHS Facilities Forum. This year's theme was "Digging Deeper into Sustaining Our Evolving Environment." The event was attended by members of staff at the University of Houston, University of Houston-Downtown, University of Houston-Victoria and University of Houston-Clear Lake. Read more about this year's Facilities Forum.

Campus Store Educates Coding Campers in Retail & Technology

The UH Campus Store hosted an educational session this summer with participants from the College of Technology's DesignYou Coding Camp through an interactive session where campers were provided real world technology experiences, learning the different components that make the store function. Learn more about this initiative.

HR collaborates with UHS Black Leadership Network

Human Resources had the opportunity to participate as scholarship judges for the Black Leadership Network Scholarship. This is the second year that the Talent Acquisition team has assisted BLN. Qualified participants from the University of Houston System submitted applications to win one of ten $1,000 Scholarships and one $1,500 scholarship.

The criteria used to grade each application was based on GPA, an essay prompt, and community service. There were 11 top applicants chosen out of 77 completed applications and the awardees were recognized in a ceremony held July 21, 2022. Congrats to the scholarship recipients!

Below the Waterlines: Houston After Hurricane Harvey

Houston Public Media's special limited series podcast, Below the Waterlines: Houston After Hurricane Harvey, launched Tuesday, August 2. Hurricane Harvey was a seminal moment in the history of Houston. Five years later, where do things stand?

Houston Public Media examines efforts to make the region more resilient to better prepare for the next big storm. To listen to the first episode and subscribe to the others view houstonpublicmedia.org/below-the-waterlines.
Video - How To Place a Work Order on FIXIT

Staff Spotlight
Cougar Cudos

Cougar Cudos goes to June Lawrence for her work with the Office of Real Estate Services and to Vivian LoDuca for her work with Human Resources.

To nominate a fellow Staff member and learn more about Cougar Cudos.

OEM's Brian Hall Wins the Staff Council Impact Award

Brian Hall, Office of Emergency Management Emergency Management Specialist, was selected for the Staff Council Impact Award. The Impact Award acknowledges a staff member that has made a major impact on an important university event, function, or service by developing, revising or implementing a system, tool, process, initiative or program within their department or across the university.

Brian was nominated for his work on the COVID-19 Response Group.  Within the group, Brian created and maintained the Positive Case Reporting Form, Potential Exposure Form, Contact Tracing Assessment Tool and Case Management Dashboard for the University of Houston. These resources, tools, and Brian's efforts were vital to the COVID-19 response for the University of Houston.
ICYMI: News You Can Use
UHS Information Security Advisory: Use of QR Codes

QR codes have become a popular way to direct consumers to websites. Unfortunately, criminals have found a way to take advantage of them by placing fake QR codes over the real ones. As a result of QR code fraud, the FBI issued a warning this past January regarding QR codes and the potential for misuse.

If you plan to use QR codes, list the URL immediately above or below the QR code that shows where the QR code is supposed to take the user. Do not ask users to enter personal or financial information at the QR site. Finally, if the QR is used on signage, periodically verify that the QR code has not been altered and is still sending users to the proper URL. If you have questions or need additional guidance, contact UHS Information Security at security@uh.edu.

HR Catalyst Team Development Training

Summer is the peak season for CATALYST Team Development workshops. In addition to offering regular classroom training this summer, the Talent Development team has been part of 12 different staff retreats and professional development days across campus. To see the full course catalogue and request a Team Development training for your group, visit the Talent Development website.

Public Art Adds Artwork to Dorothy Hood exhibition

Public Art UHS is pleased to announce that Part II of their current exhibition Dorothy Hood: The Edge of Being now includes nine additional artworks on view at the University of Houston Libraries through March 2023.

The exhibition now features two major large-format paintings and seven of her exceptional collages from the 1980s. These additional works complement those included in Part I, which remain on view at UH Libraries Special Collections and the University of Houston-Clearlake. Visit publicartuhs.org to plan your visit today.

University of Houston CERT Training Fall Schedule

The University of Houston's Office of Emergency Management, in conjunction with the Fire Marshal's Office, is offering Community Emergency Response Team (CERT) training. Participants that go through the CERT Training will be taught how to prepare themselves with lifesaving skills that can be used following a disaster when first responders are overwhelmed or not immediately available.

The eight-week program kicks off on September 9th and runs through October 28th. Classes will be held once a week on Fridays from 1-4 p.m. CERT training graduates will receive a certificate and a backpack with basic emergency supplies that can serve as an 'Emergency Go-Kit.' Learn more about CERT Training and how to register.

Department of Campus Safety Launches Five-Year Strategic Plan

On July 27, the Department of Campus Safety launched its new strategic plan for the next five years. Assistant Vice Chancellor/Assistant Vice President of Campus Safety, Kelly Boysen, presented the new strategic plan to the staff members of Campus Safety during their Campus Safety Reimagined breakfast in order to share the roadmap for the next five years. Read more about the five-year strategic plan.

Costa Coffee Machine Now Brewing at Blaffer Art Museum

The Blaffer Art Museum is now home to Costa Express – a smart café that offers high-quality, barista-like espresso coffee drinks. The state-of-the-art Express machine combines freshly ground signature blend beans, 100% real milk, and cutting-edge technology to serve you an authentic coffee shop experience with over 200+ drink combinations. From lattes and cappuccinos to espressos and cortados, delivering an authentic coffee shop experience at the touch of a button. Visit the Blaffer Art Museum to give the Smart Café a try.
Video - Using the Costa Coffee Machine

Events & Reminders
Behind the Badge Returns

August 30th sees the return of the University of Houston Police Department's Behind the Badge series. The event will be at the M.D. Anderson Rockwell Pavilion and Butler Plaza from 3 – 6 p.m.

Behind the Badge is a community engagement event. Attendees can expect presentations from UHPD, and Houston area law enforcement agencies the Houston Police Department and the Harris County Sheriff's Office.

Houston Public Media Celebrates National Radio Day

August 20th is National Radio Day! Celebrate by supporting your local public radio station. Give today and your gift will be doubled with a $25,000 dollar-for-dollar match from Ed and Jean Matthews Foundation! The news, information and music you love to hear is powered by you. For more information and events centered around this day, visit houstonpublicmedia.org/listen-live.

UH Dining Events and Promotion

The fall semester is here and with it come plenty of events and promotions from UH Dining. Want 20% off your food order, or maybe you just want to learn about the new offering? Check out the calendar to see all of this month's events and promotions. Additionally, UH Dining is doing a Tech Pack giveaway for all students who purchased a voluntary meal plan for the fall semester! Plus, visit dineoncampus.com/uh to see the full hours of operation for all UH eateries.
Submit a story to the A&F S.P.I.R.I.T. Newsletter by filling out the form.
A&F Resources