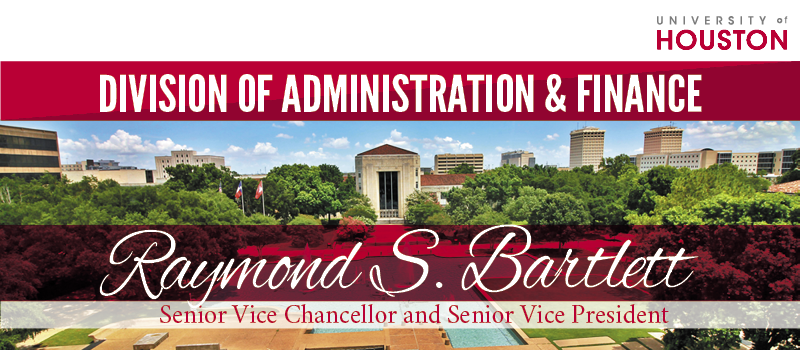 Comprised of Division features, accolades and achievements, as well as valuable "In Case You Missed It (ICYMI)" news you can use, each edition of the newsletter highlights key information and resources across the Division's departmental, operational and service unit areas. To subscribe to this listserv, click HERE.
Leadership Message from the Chief Financial Officer
Dear Administration and Finance colleagues:

As we prepare for the Thanksgiving holiday and the season of giving thanks, I am grateful for the Administration and Finance team and our many accomplishments this year. Thank you so very much for going the extra mile this year to demonstrate our A&F SPIRIT of service excellence in supporting students, faculty, and staff. In this month's newsletter, we highlight a number of initiatives, programs, and staff accolades, including:

A compilation of holiday safety reminders and tips from the respective subject matter experts within our division.
Special programming available from Houston Public Media, such as 100 Years of Houston, focusing on significant Houston milestones, and Party Politics podcast, hosted by Brandon Rottinghaus and Jeronimo Cortina, two University of Houston political science professors.
An overview of the Pedestrian Safety Project, led by Facilities/Construction Management, following a recent campus-wide assessment.
A reminder from Occupational Health that November is Diabetes Month, and tips for healthy living and diabetes risk factors.
Information from Copy, Print, and Delivery Services on the forthcoming Martin Luther King address change project and the list of buildings that will be impacted by this project.
Highlights from Human Resources on new offerings in the Catalyst Training Program, including Creative Problem Solving, Embracing Change, Leading Change, and Mastering Your Productivity.
Recognition and Congratulations to UH Health Inspector, Christina Martinez, for receiving her Registered Sanitarian certificate and Nilda Vasquez, who received Cougar Cudos from Staff Council for exceptional service.

I am also thankful for the excellent participation in the Staff Tailgate at UH's October Homecoming football game, in partnership with Staff Council. It was wonderful to gather safely with staff and their families and enjoy great food, fellowship, and fun together.

I wish you all a wonderful Thanksgiving, and I hope that you have time during the holiday to recharge with family and friends.

As always, stay safe and thank you for all you do in service to the UH community.
Highlights & Features
Holiday Safety Tips & Reminders

Before placing the holiday decor or warming up in your office, check out this year's holiday safety tips and reminders from our partners across the Division of Administration & Finance. Reminders include inspecting holiday decor, tips for decorating offices, being aware of gift card scams, and preparing for frigid winter weather.

The History of Houston encompasses major events with people and organizations that have worked for positive change in our community and abroad. 100 Years of Houston recounts important milestones and shares the personal stories of our city's trailblazers and their local connection. These stories are framed by the themes of Inclusion & Diversity, Innovation and Health. Read more.

November is American Diabetes Month

A reminder from UH Occupational Health Services: November is American Diabetes Month. According to the CDC, over 34 million people in the United States have diabetes, and 1 in 4 do not know they have it. With early detection and awareness, you can take steps to prevent or delay the onset of Type 2 Diabetes. For risk factors and healthy living tips, visit American Diabetes Association.

Houston Public Media Premieres Party Politics Podcast

Overwhelmed by the political news cycle every week? We get it — that's why we're 'keeping the fun but losing all the drama' of politics! Party Politics podcast is hosted by Brandon Rottinghaus and Jeronimo Cortina, two smart and sassy University of Houston political science professors, who deliver a friendly, funny, and casually informative recap of the week's biggest political news stories.

Join the conversation on Twitter @HPMPolitics; use #PartyPoliticsPod to ask Brandon & Jeronimo questions; or email us at Party Politics.

Facilities/Construction Management Launches the Pedestrian Safety Project

Facilities/Construction Management is proud to help support safety initiatives on campus. The Pedestrian Safety Project is the result of a recent campus assessment of pedestrian safety. Akila Raman, Assistant Project Manager, in Campus Construction Services (CCS) will manage this project. Click here to read more.

Calhoun Addresses Change to Martin Luther King

Information regarding the street name change project can be found on the project website, www.uh.edu/cpd . Click on the bottom left icon labeled, MLK New Address.

As a reminder, new addresses go into effect on December 1st for the impacted buildings. The Delivery Services team will contact the impacted areas directly with further instructions. Additionally, 4800 Calhoun will be eliminated and not recognized as an official University address.

Catalyst Program Continues to Support Professional Development for Staff

The return of the Catalyst program yielded great results this semester with courses like Creative Problem Solving and Franklin Covey's The Six Critical Practices filling up in record time. Several new courses were introduced including Embracing Change, Mastering Your Productivity, and Leading Change. These courses focus on the crucial role leaders have in effectively leading change initiatives in the workplace. Please stay tuned! Additional courses will be released next semester. Head over to the Catalyst app in AccessUH to view current courses that are available. Visit the Talent Development website to view the full course catalogue.

Finding HUB Vendors is now easier

UH HUB Operations Office is committed to a business program of advocacy, education, knowledge, development and utilization that will achieve HUB procurement participation. The FY22 HUB Goals by College/Division are available in the SharePoint, and were distributed to the College/Division Administrators via an E-mail (October 13, 2021) from the Controller's Office. Identifying and promoting the use of HUBs is vital to the success of HUB program, which is mandated by law, helps the economy and helps build stronger relationships with the communities we serve.

Should you have questions about the HUB program or can't find a vendor in the UH HUB Database that addresses your procurement needs, please email flclark@uh.edu or call 713-743-8603.

Improve Your WIFI Experience

Check out UIT's Weekly Quick Tip to improve your WIFI experience on campus. To optimize your Wi-Fi experience, start by performing a Wi-Fi speed test at uh.edu/network-test. If your speeds are slower than 5 Mbps then you should consider trying some of the following steps to improve your Wi-Fi:

Adjust your power and WiFi transmission settings
Check the following settings to ensure your built-in Wi-Fi adapter is optimized
Disable Power Savings Mode
Some devices will slow or turn off Wi-Fi to conserve battery power. Maximize Wi-Fi performance by changing your power settings
Switch Wi-Fi channel to 5GHz
Upgrade your Wi-Fi adapter
Update your network drivers
Ensure your device is up-to-date with the latest service packs and security updates
Staff Spotlight
2021 NACAS C3X Conference Honorees

NACAS C3X Awards honor Office of Administration staff for "breaking new ground, implementing innovation and achieving success." This year's awards and scholarships winners include:

Emily Messa, PhD, CASP, AVC/AVP Administration – Volunteer of the Year
DaNesha Allen, Edwin R. Golden Inclusive Excellence Award
Rosie Ashley, MA, CASP – Mareese Ladson Scholarship
Nadine Frias-Martinez, MBA – Mareese Ladson Scholarship

To learn more about the award criteria, click here.

Kelly Boysen receives Certified Emergency Manager (CEM) credential

Kelly Boysen, Assistant Vice Chancellor/Assistant Vice President for Campus Safety, has been approved by the Certification Commission of the International Association of Emergency Managers (IAEM) to receive the Certified Emergency Manager (CEM®) credential. The CEM® designation is the highest honor of professional achievement available from the IAEM, which has in its membership more than 6,000 emergency managers representing professionals whose goals are saving lives and protecting property and the environment during emergencies and disasters. Read more.

Christina Martinez receives Registered Sanitarian certification

UH Health Inspector, Christina Martinez, passed her registered sanitarian examination for Texas. Registered sanitarians are public health professionals qualified by specific education, specialized training, and field experience to protect the public's health, safety, and general welfare from adverse environmental determinants.

Congrats to A&F Cougar Cudos Honorees!

Cougar Cudos goes to Nilda Vasquez who was honored by Staff Council for exceptional service to the University in November.

To nominate a fellow Staff member and learn more, click here.
ICYMI: News You Can Use
Office of Emergency Management builds Emergency Kits

The Office of Emergency Management (OEM) partnered with Student Housing and Residential Life to help students learn more about building an Emergency Kit. Students were able to build their own starter emergency kit. The kits included a poncho, nitrile gloves, waterproof document bag, bug repellant wipe, sunscreen, mini-first aid kit, crank flashlight, lip balm, whistle, hand sanitizer and a granola bar with a bottle of water. 

Visit the Office of Emergency Management website for more information on what to include in your emergency kit.

Enhancements to UH WIFI Experience at TDECU Stadium

In an effort to continue to enhance the Wi-Fi experience throughout our campuses and remote locations, we have been working to increase the WiFi coverage in outdoor spaces such athletics events in the TDECU Stadium.

In Spring 2021, UIT finished the update of the wireless in TDECU Stadium to the latest high-efficiency WiFi Technology (802.11AX). Over 175 wireless access points were installed to provide comprehensive coverage throughout the stadium including the lower bowl, concourse and other key areas.

Fans can now expect to have champion wireless access while we watch our beloved Cougars reign supreme!

Qatari Artist Muna Al Bader creates the mural Cultural Bonds

Public Art UHS brought Qatari Artist Muna Al-Bader to campus for a unique and inspiring experience: the creation of a new mural, Cultural Bonds in celebration of the Qatar-USA 2021 Year of Culture. The piece was recently completed and will be on view until November 2022. It is conveniently located in the UH Arts district, outside the College of Technology. Visit Public Art UHS for additional details.
Events
Join UHPD for a Walk in the Dark!

UH Community members are invited to Walk in the Dark with UHPD's finest on Wednesday, November 17th at 6pm. This event is a partnership between UHPD, Office of Emergency Management, Fire Marshal's Office, Residence Halls Association, Facilities/Construction Management and Parking & Transportation. 

Save the Date for the Annual Human Resources Retirement Seminar

The Human Resources Benefits team will host the Annual HR Retirement Seminar beginning Wednesday, Dec. 1.  Sessions will occur over two days and feature five virtual workshops with representatives from the Social Security Administration, TRS, ERS and Texa$aver 457(b).  Join this seminar for an opportunity to better understand and navigate the retirement process!

UH Dining presents Thankful Table & Food Drive

It's the month of giving and in celebration of the upcoming Thankful Table event, UH Dining has partnered with PEEPS Pantry to host a canned food drive.

All month long, canned goods can be dropped off at the Welcome Center building, suite #150 anytime from 10am - 4pm, Monday through Friday. Those who donate 5 cans or more will receive a voucher for a free medium drip coffee and a donut from the Market Store.
A&F Resources