UHVPN
The UHVPN is a Split tunnel type of VPN service. Split tunneling is a computer network concept which allows users to access different security domains (e.g. The internet) and a local LAN or WAN at the same time, using the same or different network connectors, though the simultaneous use of a LAN or wireless Network. With configurations such as Split-Exclude and Split-Include, the latter which allows only traffic destined to a domain and is currently used by UH VPN setup (vpn.uh.edu).
For example; Suppose a user utilizes a remote Access VPN software client connecting to a University of Houston (uh.edu) network through a home installed network. The split tunneling allows the connection to UH file Servers, Mail servers and database Servers and other servers through the VPN network. When the user connects to other websites, the connection request goes directly out of the home network's gateway.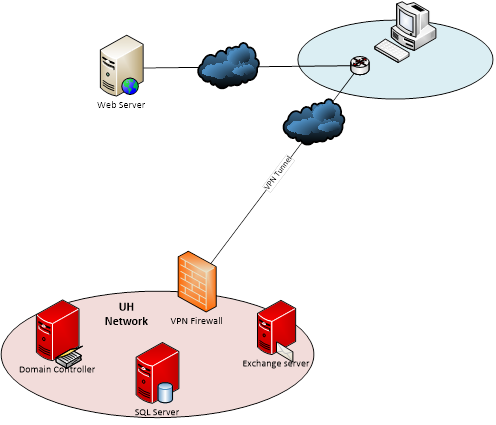 For More Information
For information about connecting to a specific service securely, contact your system administrator. Not all systems at UH are on VPN. However, all connections to any system at UH are much more secure with VPN than without.
Contact Us
Live Chat: Live Chat
Call Us: 713-743-1411
Fax Us: 713-743-1410
Email Us: support@uh.edu
Mail Code: TSS 2002