Empowering through new knowledge, Enriching through shared experience, Excelling toward the future.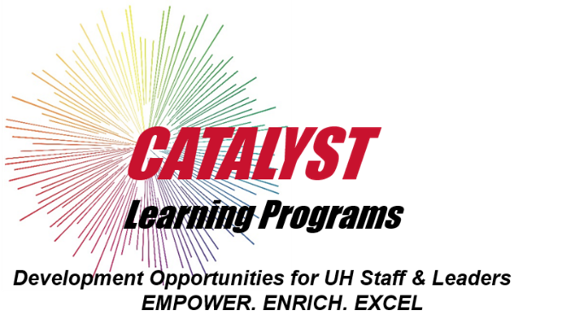 Catalyst is a learning and development program designed to provide opportunities for staff to enhance knowledge and develop skills for future opportunities within the University of Houston.  This program features innovative development courses for Individual Contributors, Supervisors, Managers and Senior Leaders. 
CATALYST@Home offers weekly learning activities that will help you continue your learning and development journey. These learning activities include online training videos (via LinkedIn Learning) and development activities designed to help you grow professionally.  There is no charge for CATALYST@Home.

 

We are excited to announce the launch of CATALYST Online, live virtual development courses for UH Staff. The Catalyst Online offerings will include some of our most popular classroom courses, as well as new subjects relevant to today's work environment.

Check out the new CATALYST Enrollment app to enroll!