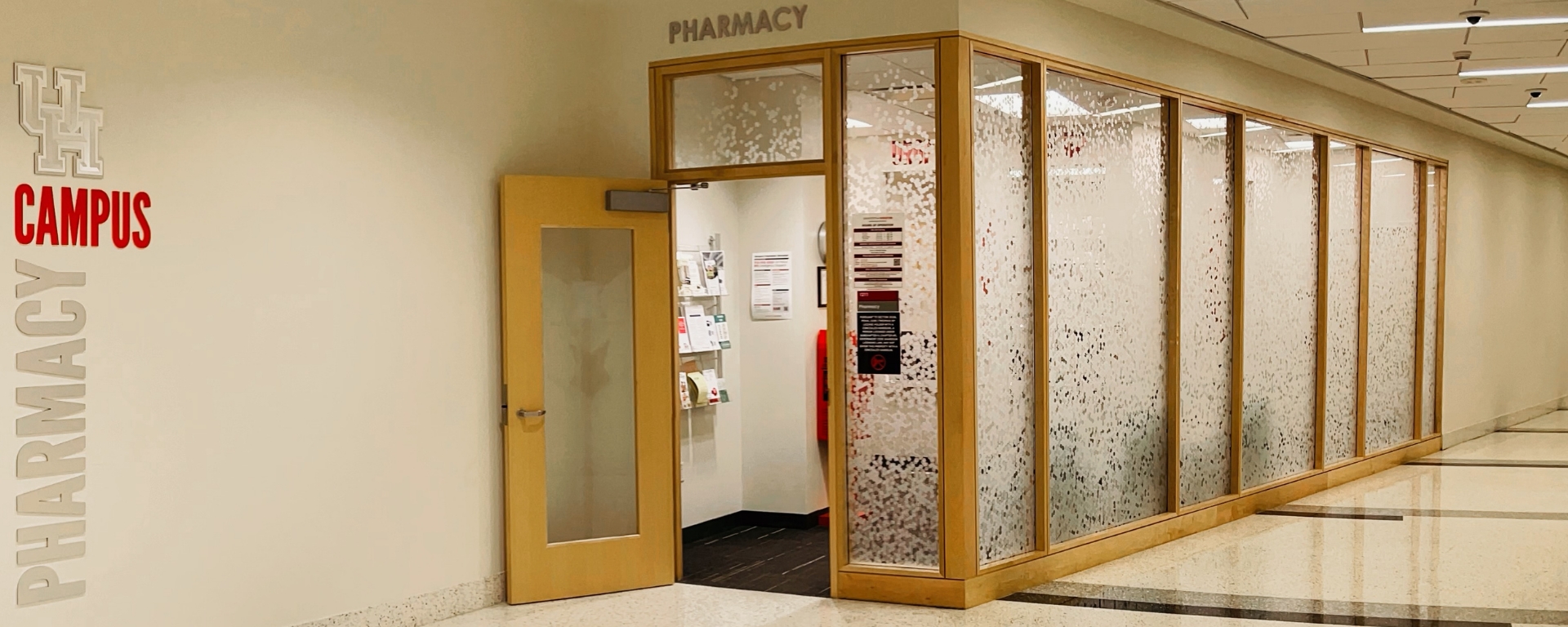 Campus Pharmacy
The Campus Pharmacy is committed to excellent patient care. Our pharmacists serve as an integral part of the healthcare team to help provide optimum outcomes and medication management. We believe strongly in educating patients about their medications including proper use, length of therapy, side effects, and potential drug interactions.
The UH Campus Pharmacy formulary carries a variety of both prescription and OTC medications at competitive prices. Services are available to UH students, faculty, and staff.
Valid prescriptions are accepted from any physician licensed to practice in the United States. Prescriptions can be faxed or phoned in by your provider. Our pharmacy also accepts electronic prescriptions.
Most prescriptions filled at other pharmacies can be transferred to this pharmacy. We will need the pharmacy's phone number and your prescription number to request a transfer. Valid ID must be provided for all off-campus prescriptions and transfers.
Payment is required at the time of service. The UH Campus Pharmacy now accepts most insurance plans for prescription coverage. Many insurance companies provide a special card for pharmacy use to be presented at the time of service. Contact your carrier or we can assist in verifying your coverage.
Vaccines Available
The Campus Pharmacy offers the Seasonal Influenza and Pfizer COVID-19 vaccines by appointment to current UH students, faculty and staff.
On August 31, 2022, the FDA approved the bivalent Moderna Covid-19 Vaccine and the bivalent Pfizer Covid-19 Vaccine as a single booster dose at least two months following the primary series or the booster vaccination. Read the FDA News Release.
The Bivalent Booster Pfizer Covid-19 vaccine is now available at the Campus Pharmacy.
Schedule an appointment online by using your Cougarnet ID.
RX Take Back Program
The UH Campus Pharmacy participates in an RX Take Back Program making the disposal of unused and expired prescriptions, including controlled substances and over-the-counter medications, quick and easy.
This important initiative addresses a vital public safety and public health issue, the increasing rate of prescription drug abuse, overdoses, and accidental poisoning. Available during regular operating hours, the Rx Take Back Kiosk provides an anonymous and convenient way to dispose of drugs in tablet, capsule and other solid dosage forms, safely and without harming the environment. (Liquids, needles, sharps, asthma inhalers, and illicit drugs are not accepted.)
You can also click this link to Public Disposal Locations to find an authorized collector in your area.
Prescription Refills
It is very important that you take your medications as prescribed by your medical provider and that you not run out of ongoing medications.
Call or place your refills request online three (3) days before you are due to run out of medication(s). Allow 24 hours processing if you have refills. If your medication(s) do not have refills or is a special order, please allow 48 hours (2 days) to obtain authorization and processing.
You can also download the mobileRx® Pharmacy app from Google Play or Apple App Store for easy refills.
Prescription Transfers
To transfer prescriptions from an outside pharmacy to the Campus Pharmacy, please complete this form and return it to the pharmacy in person or by fax: 713-743-3971. Please allow 24 hours for your prescription to be transferred. Contact us for more information 713-743-5125.
Phone

(713) 743-5125 or (713) 743-5127

(713) 743-3971 (fax)

Address

Health 2
4349 Martin Luther King Blvd.
Room 1211
Houston, TX 77204-3016

Hours of Operation

Monday - Friday
8:00 AM - 5:00 PM
There may be a slight delay in prescription processing during lunch hour. Please ask pharmacy for more details.