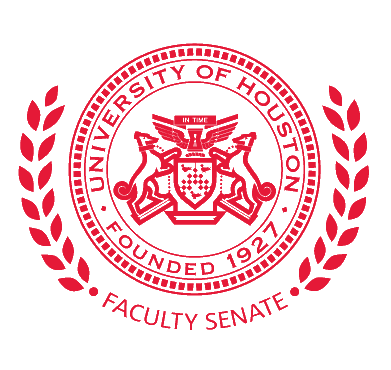 Welcome to the University of Houston Faculty Senate
No Announcements at this time
Weekly Top 5
1. Access Emergency Preparedness Resources

Resources Available - The Office of Emergency Management (OEM) provides faculty with several emergency preparedness resources on the Faculty Emergency Preparedness website, including an emergency preparedness guide and syllabus inserts. The site offers preparedness posters for distribution to all buildings, departments, and areas of campus.  The OEM also has a large supply of already printed posters in stock and can provide them to any location on campus.  Contact Ginger Walker at gkwalker@uh.edu for poster information or see the Faculty Emergency Preparedness website. 

2. Participate in the Café Conversation Series

Oct. 5, 10-11am - Join UH senior leadership and faculty members in an open discussion about supporting academic endeavors and UH's goal of becoming Top 50.  You can participate in the conversation in-person at the Faculty Café, located in the Ezekiel W. Cullen Building Ground Level, Room 31 or via Teams.  For more information and to access the Teams meeting link, see the event on the Faculty Engagement and Development (FED) Calendar.

3. Protect Yourself with a Flu Shot

Register now - Flu season is approaching!  Protect yourself with help from The UH Student Health Center and the HR POWER UP Employee Wellness program, who are coordinating onsite flu vaccination clinics through Oct. 16 at various locations on campus.  Flu vaccinations are offered at no cost for employees with BCBSTX HealthSelect and $39 for faculty/staff without insurance.  Shingles vaccinations for those 50 years and older and pneumonia vaccinations for those 65 or older will also be available.  See your email inbox for the No-Cost Flu Shots from UH message, which includes registration links.

4. Join Team UH at the Hess Houston Corporate 5K Run/Walk

Register by Oct. 6 - Connect with faculty and staff from across campus and get some exercise, too! UH Day at the Hess Houston Corporate 5K Run/Walk in Memorial Park is on Oct. 19, from 4-7:30pm.  HR POWER UP Employee Wellness will offer no-cost entry to the first 30 employees who register for UH Day and who RSVP for the post-event celebration that follows.  After the first 30 free slots are taken, HR POWER UP will cover half of the entry fee for other participating employees.  UH team members who register by Oct. 6 will receive a running tech shirt, race bib, tote bag, and more.  Detailed information is available on the flyer from Human Resources.

5. Connect with Colleagues and Watch Some Soccer with the UH Staff Council

Oct. 7, 7:30pm - Want to join colleagues for a fun event?  Are you a soccer fan?  Join the University of Houston Staff Council for a special outing for staff and faculty at the final Houston Dynamo game of the season, when they play the Colorado Rapids.  Tickets start at $15.  Discounted tickets are available via the discounted ticket link until October 6th at 12 p.m.  For more information, see the event on the UH Staff Council calendar.