Lyle McKinney Receives Emerging Scholar Award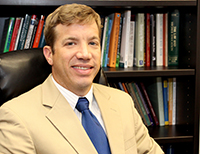 Department of Educational Leadership & Policy Studies (DELPS) assistant professor Lyle McKinney has been selected to represent the research and creative activity of rising faculty at the University of Houston during the 2015-2016 Assistant Professor Excellence Speaker Series (APeX). APeX will showcase McKinney's research as an example of some of the best scholarship being performed by assistant professors on campus.
The UH Faculty Senate will host a talk by McKinney titled Drowning in Debt: How Student Loans are Stifling the College Experience and the American Dream at the M.D. Anderson Library in the Elizabeth D. Rockwell Pavilion.
McKinney notes that college costs and rising student debt have become issues of national concern. "My talk will discuss the good, bad, and ugly of student loans," he said. "I will explain the major problems with our current student loan system, and describe several solutions that could help better protect student borrowers."
Student loan debt in America exceeds one trillion dollars. Average debt levels and default rates have risen sharply; nearly one-third of borrowers dropout with debt and no degree. This talk investigates how the U.S. student loan system, designed to promote college access and success, increasingly serves to exacerbate the well-being of our most disadvantaged student populations.
McKinney will explain how several key improvements to current loan policies and financial aid counseling practices could better protect student borrowers. Such improvements are timely and necessary, as they can help ensure that for millions of students, the benefits of attending college are not overshadowed by the far-reaching hardships resulting from unmanageable student loan debt.  
A central mission of DELPS is to produce research that shapes the public policies impacting our K-20 educational system. "My research on college affordability and student debt is just one piece of this puzzle," said McKinney.   "Hopefully my talk will increase awareness of the outstanding research being conducted by my faculty colleagues and students in the department."
McKinney is one of the shining stars in the College of Education. "Any faculty, staff, or student who has had the pleasure of working with Lyle understands his unquestioned ability to express complex academic knowledge in a manner that all audiences can easily understand," said DELPS chair Anthony Rolle. "As a colleague, Dr. McKinney's research and teaching are top-notch; and, I am not surprised his hard work has garnered statewide and national attention."
McKinney said he is humbled to have been selected by the APeX review committee.  "I feel fortunate to represent the College of Education during this speaker series." 
Save the Date for Lyle McKinney's talk:
Wednesday February 24, 2016
12:15 to 1:15pm
M.D. Anderson Library in the Elizabeth D. Rockwell Pavilion
University of Houston Main Campus