Table Talk 2012 Blasts into the Stratosphere! 
Once again, Table Talk was totally fab! This year's 15th annual spread across double the space at the Hilton, so even with more than 500 women (and some men) talking, you could hang on every word at your table. Wisdom and good fellowship flowed in all directions. From scientists, artists, executives, philanthropists, politicians, cooks, lawyers, pastors, journalists, nonprofit leaders, and even the chief of the astronaut office -- the many atmospheres where women work today. (Most of them gathered in the photo on the homepage.)
The Friends of Women's Studies are thrilled as ever to honor the accomplishments and talents of so many leaders, in conversation with the rest of us. At the same time that it builds community, Table Talk supports Women's Studies at UH and the Shuart Women's Archive and Research Collection. Led by our inspiring chairs, Sharon Michael Owens and Beverly K. Robinson (below), and backed up by a stellar host committee, our incredible board and all our supporters, Table Talk 2012 drew a record crowd and netted more than $100K for scholarships, research and programming. All the proceeds from the raffle go to the Program's Staying Power Endowment. (To contribute further, click here.)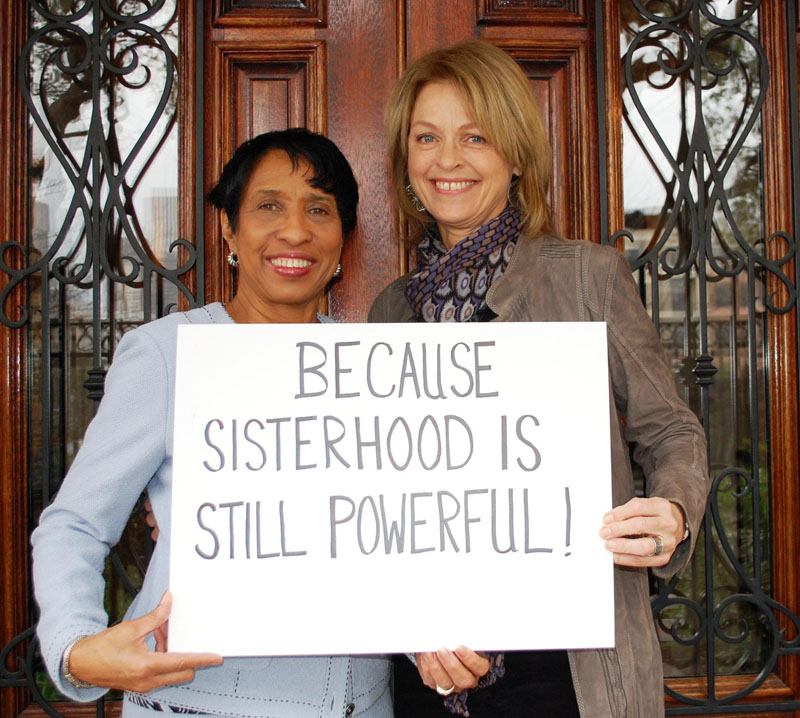 photos by Sarah Gish
This year's video featured images of Houston women from diverse fields and backgrounds answering the question "Why Support Women's Studies?" (Shout out to Laura Sheinkopf, Sarah Gish, Andi Georgsson et al. for that.) Here's one, for starters! To see more, LIKE us on facebook @ UH Women's! Thanks for supporting research on and by women, an effort essential to improving women's status overall.
In addition to great signage, Table Talk also got mention in other media including PaperCity and the UH CLASS Newsletter.
If you have ideas for future conversationalists or for women's organizations whose papers should be included in the archive, please email Amanda at amoore@uh.edu.
If you'd like to stay connected with the Friends throughout the year and you're not a member already, please consider becoming one, at the level that best suits you (click here).  In addition to individual memberships, we have a corporate annual membership. If you know or work for a company that might like to show support in this way, please feel free to forward our form. Thanks so much to those of you who joined us this year.  We hope to see you next year at our sixteenth annual gathering!   
THANKS TO OUR UNDERWRITERS!
Melanie Gray, Beverly K. Robinson, Nina Zilkha, CenterPoint Energy, Chinhui Juhn and Eddie Allen, Fiesta Mart, Inc, Sally & Bill Russ, Texas Children's Hospital, Nancy Allen, Amegy Bank Women's Initiative, Sarah Cooper & Andrea Georgsson, Gina Gaston Eli & Yava Scott, MaryScott Hagle & Susana Monteverde, H-E-B, Nina Andrews Karohl, Melissa Edwards & Fatima Mawji, Reliant Energy, Lillie Robertson, Carey C. Shuart, Amegy Bank - Terry Morales, Shirley Kwan & Joyce Lance, Vilma Allen & Jo Rosenblum King, Maida Asofsky & Heather Brown, Christine Attar, Adrian Melissinos & GinRu Lee, Mindy Robinson Brown Friends, Elaine W. Finger, Martha Freedman, Eleanor Gilbane, Zita Giraldo, Nancy Glesby, Pam Rosen & Betsy Schreiber, green Bank, Houston Woman Magazine, Office of the President, University of Houston, Joanne Levy, Ann & Elizabeth MacNaughton, Sherry Merfish, Kathryn Peek & Pam Gardner, Leslie Robinson, Minnette Robinson, Becky Rush & MaryRoss Taylor, UH Cullen College of Engineering, and University of Houston Libraries.
  
SPECIAL THANKS TO: Anita Smith, Zita Giraldo, Jill Knobloch, Fiesta Mart Inc., and Katherine Veneman.
  
THANKS TO OUR FABULOUS HOST COMMITTEE:
Alice Aanstoos, Cynthia Anderson, Mindy Brown, Shannon Buggs, Sarah Cooper, Dr. Yvonne Cormier, Beverly Denver, Melissa Edwards, Gina Gaston Elie, Juanita Elizondo, Elaine Finger, Diedra Fontaine, Martha Kaplan Freedman, Andrea Georgsson, Eleanor Gilbane, Nancy Glesby, Melanie Gray, MaryScott Hagle, Winell Herron, Pauline Higgins, Argentina James, Chinhui Juhn, Joanne Levy, Fatima Mawji, Terry Morales, Sue Payne, Leslie Robinson, Minnette Robinson, Pam Rosen, Sally Russ, Betsy Schreiber, Yava Scott, Carey Shuart, Anita Smith, and Ellen Susman.
 
The Friends extend thanks to the 2012 Raffle donors:  The Alley Theatre, Beautique Day Spa and Salon, Blaffer Gallery, Beverly Denver & Houston Woman Magazine, Eve Francis Boutique, Gabriela Gerhart and The Motherhood Center, Sarah Gish, Handmade in Texas, The Houston Ballet, Jo Rosenblum King & Rosenblum Fine Jewelers, La Maison in Midtown, The Masquerade Theatre, Mechon Hair Studio, Monica Pope's T'afia, Past Era Antique Jewelry, Howard & Beverly Robinson, Bill & Sally Russ, Shade in the Heights, Texans Football and Katherine Veneman.
View the 2012 Table Talk Invitation
Co-Chairs: Sharon Michael Owens and Beverly Robinson
Wednesday, February 29, 2012
Reception begins at 11am
Lunch 12:00 Noon to 1:30pm
Hilton Americas Hotel Downtown
1600 Lamar Street, Houston TX 77010
Table Talk is a fascinating combination of conversations over lunch. Dynamic Houston women, of various cultures, professions, and experiences, lead the discussions at each table. Proceeds support the Women Studies at the University of Houston and the Shuart Women's Archive and Research Collection. The Shuart Women's Archive collects the written records and oral histories of women's organizations and of individual women who have affected our lives in Houston. As a contributor to Table Talk you support scholarship on and by women while preserving our local women's history.
Please join the Friends of Women's Studies for this great networking event. Individual tickets go for $75, and tables for $1,500, $2,500, $5,000, or $10,000 for nine guests. To reserve your table or find out more about underwriting levels and benefits, please access these links. Underwriting Response Form and Benefits Explanation.
Table sponsors and conversationalists are invited to a kickoff party in February, hosted this year by Anita Smith.