Feminist Art
The Women's Studies suite offers our walls for University of Houston students to display their work. This art must deal with gender or feminist issues. One artist displays his/her work for the duration of the school year and may provide purchase information for each piece. Women's Studies holds an art opening for the artist in the Fall.
Current Exhibit

Seema Nanda
Bio: In 2012, Seema Nanda received a bachelor's degree in philosophy from Mount Holyoke College in South Hadley, Massachusetts. In order to complete her undergraduate studies, she also studied with Cynthia Freeland in the philosophy department at the University of Houston. After graduating, she devoted increasing amounts of time to art.
Seema Nanda Artist Statement: As an artist, Nanda grapples with having grown up in emotionally violent circumstances. She utilizes her work to engage with the past. Her work provides the opportunity to mold sometimes difficult and painful memories into tangible compositions. She submits these pieces in the hope that all women may have peace in our hearts and homes.
---
Previous Exhibit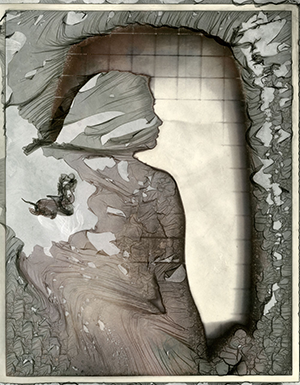 Brianna Holmes
Brianna Holmes Artist Statement: My work takes a critical view on personal vulnerabilities, familial relations, and the dynamics of "normality." I deconstruct the societal ideal and assert my conception of how I fit into that mold. My approach conceptually plays up the materiality of the photographic medium through mixed media and alternative chemical processes to visually defect the ideal in favor of my own manipulated perception. My manipulations intentionally veil the subjects in anonymity, inviting the viewer to move into a space of self-speculation. I rely on our desires for beauty and seduction to convey the destructive effects of a negative body image and ones own mind.
Bio: Brianna Holmes' work focuses on personal vulnerabilities, familial relations, and the dynamics of "normality." She plays up the materiality of the photographic medium through mixed media and alternative chemical processes to visually deconstruct the ideal in favor of her own manipulated perception.
Holmes has shown her work in group exhibitions at Caroline Collective and the Blaffer Museum of Art, and is in an upcoming group exhibition at the Houston Arts Alliance curated by Houston Center of Photography's own Libbie Masterson.
Brianna Holmes is currently studying at the University of Houston School of Fine Arts towards her BFA in Photography and Digital Media. Holmes was born in Dallas, Texas and currently resides in Houston, Texas.
Lindsay Fyffe and Ana Villagomez, Dismantled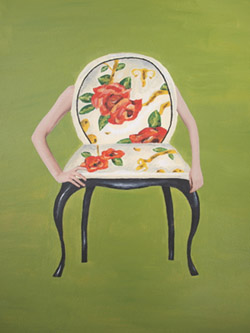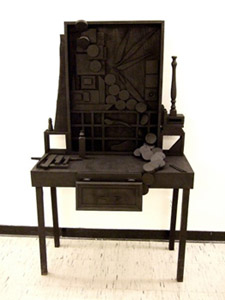 Lindsay Fyffe Artist Statement: "For this piece I felt compelled to share my experience as a woman who has felt objectified. Whether used, sat upon, or just looked at, a chair is just a mere object for others to do as they please. I often feel the media reduces a woman's worth in society by portraying her to be a mere object of sexual desire. The arm cutouts are unique in that they were extracted directly from a model in a women's magazine. At second glance, the pattern on the chair transcends from just decorative roses to a complex arrangement of parts. As with objectification, the woman's thoughts, emotions and self as a whole are lost."
Ana Villagomez Artist Statement: "To me, one of the most overwhelming feelings of joy comes from being able to decide what two things should be nailed together and which should not. From a young age I started taking things apart. I broke furniture, toys, cups, plates, movies, anything. I did with these pieces whatever I felt like; I put them together however I wanted, and I've been doing that ever since. When I come across an object that gives me an irrepressible feeling of sadness, I take it apart. I cut them, shape them, and change their surface. I use these scraps to build entirely new and large scale objects; objects that are created because for whatever reason I decided that they should be. Whether the pieces I create are representational or abstract, they are all part of uncontainable feelings within me from thoughts of the present or past memories, and particularly memories that were abandoned for too long. My work is the only successful outlet I've ever had for these feelings. When I make these pieces I am the one in control. When I see them complete in their large scale and I reflect on the arduous physical process of making them, I don't feel small or weak or inferior, and, for me, this is the ultimate feeling of comfort and happiness." Artist Website
Interested Artists
If you are interested in showing your work in the Women's Studies suite, please email WGSS@uh.edu.