Terrell E. Brittain, M.S.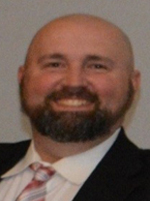 Instructional Assistant Professor
Phone: (832) 413-6262
Email: tbrittain@uh.edu
Office Location: Melcher Life Sciences M250E
Curriculum Vitae
---
Terrell E. Brittain is a graduate of the Master's degree program in Deaf Studies & Deaf Education at Lamar University. He is an accomplished teacher at both the secondary and higher education levels with an expertise is in American Sign Language and Deaf Culture. Mr. Brittain has taught over 3,600 students, and his students find him to be demanding but also engaging. He is known for incorporating humor in his teaching which puts his students at ease as they learn the complicated task of communicating in a visual modality. Mr. Brittain's major focus is enhancing the language mastery component of the American Sign Language Interpreting program, by developing an advanced level of ASL not previously offered, and enhancing the skills of the American Sign Language Interpreting majors.
Education
M.S., Deaf Education/Deaf Studies, Lamar University, Beaumont, TX
B.S., General Studies, Lamar University, Beaumont, TX
Teaching
Elementary American Sign Language I (SGNL 1301)
Intermediate American Sign Language II (SGNL 2302)
Intermediate American Sign Language II for pre-ASLI majors only (SGNL 2302)
History and Culture of American Deaf Community (COMD 3301)
Service Activities/ Accomplishments
"The NFL ASL Fan" workshop in UH campus, January 25, 2020

Summer Institute Statewide in UH campus, June 24-28 2018

"Game On"! First Quarter: Volleyball and Baseball in UH campus, 

2018, 2016

Summer Institute Statewide in UH campus, August 13-17, 2017
Summer Institute Statewide in UH campus, August 7-11, 2016
Professional Activities
ASL Honor Society
MOOC (Massive Open Online Courses)-American Deaf Culture