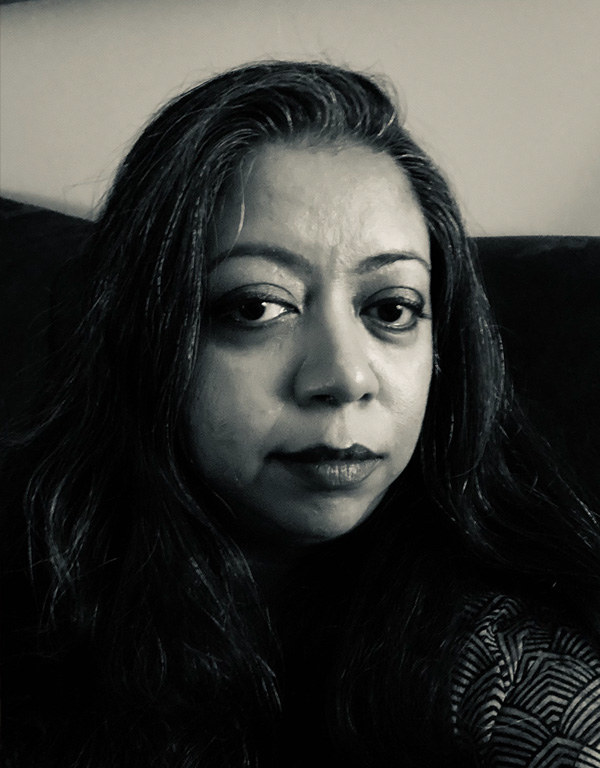 Associate Professor, Anthropology 
Anthropology Graduate Program Director and Advisor
Ph.D., Rutgers University
Office: Old Science Building, Suite 230
Email: dsen2@central.uh.edu
Biographical Summary
Professor Debarati Sen was born in Darjeeling, India, and raised in Kolkata (Calcutta). She earned a BA in Sociology from Presidency College (Calcutta University) and an MA and M.Phil in Sociology from Delhi School of Economics (Delhi University) before pursuing her Ph.D. in Anthropology at Rutgers University (New Brunswick, NJ). She joined UH in Spring 2021.
Professor Sen is an interdisciplinary cultural anthropologist. She is an ethnographer and theorist of labor, sustainable development, ethnic sub-nationalism, and embodied practices of health and wellbeing. In her two decades of research and advocacy work, she has used ethnographic methods with keen attention to historiography and political economy. Her theoretical repertoire to interrogate intersecting issues of caste, ethnicity, race, gender, and national identity synergizes critical Black and Latinx feminist formations alongside Transnational and Postcolonial Feminism.
Her specific regional expertise is in the borderland areas of the Eastern Himalayas in India (Darjeeling district in particular). She is deeply committed to issues of social justice and structural inequities as it impacts the everyday life and aspirations of ethnic minorities in some of the most fragile areas of the Indian subcontinent affected by protracted conflicts over cultural and economic marginality. While grounded in cultural anthropology, her research and public engagements are influenced by her graduate training in Sociology, Cultural Geography, Political Economy, Development Studies, Social History, and South Asia Studies.
Research Projects and Publications:
Professor Sen's first major research project was a longitudinal ethnography of sustainability practice in Darjeeling focusing on issues of fair trade and gender justice. This research culminated in her award-winning monograph: Everyday Sustainability: Gender Justice and Fair Trade Tea in Darjeeling (Albany: SUNY Press, 2017; Series: Praxis: Theory in Action). The book examines gendered mobilizations around sustainable development in rural India, drawing attention to issues of social sustainability at the community level. She highlights how poor Nepali women understand sustainability initiatives in rural India — their discourses and practices around organic tea farming, interpretations, and hopes for a sustainable future. Going beyond numbers and soundbites about global sustainability, the book presents critical data on community-level cultural and economic mobilizations around sustainability policies, particularly the labor and entrepreneurial practices promoted by states and multilateral institutions to achieve international sustainability standards. Her book emphasizes the need for a critical community-based approach to sustainability practice emphasizing intersectional issues of gendered aspiration, ethnic identity, and labor. 
Currently, she is completing her second monograph, titled "Subnational Enterprise," which analyzes archival material and ethnographic data on the militarized identities of Indian Nepalis (Gorkhas) and their political predicaments in contemporary India. 
In 2021 she co-edited (with Dr. Lipika Kamra) a special issue of the Journal of South Asian Development titled "Women's Collectives and Social Transformations in South Asia: Negotiations, Navigations and Self-Making." 
Her articles have been published in refereed journals like Feminist Studies, Society and Natural Resources, Journal of Political Ecology, Environment and Society, Journal of South Asian Development, Contemporary South Asia, Critique of Anthropology, South Asia Chronicle, Culture, Agriculture, Food and Environment, Anthropology in Action, and Anthropology of Work Review. She is also a contributor to multiple anthologies.
National Recognition/Awards and Grants:
In 2018, Professor Sen's monograph won two major national-level book awards: The International Studies Association's book award for the Global Development Section and the Gloria E. Anzaldúa Book Prize from the National Women's Studies Association (https://www.nwsa.org/page/AnzalduaPrize). In 2019, her book also received an honorable mention for the Michelle Rosaldo Book Prize of the Association for Feminist Anthropology (American Anthropological Organization).
Her research has been funded with grants from the Wenner-Gren Foundation, US National Science Foundation DDIG, Princeton University's Office of Population Research, and Columbia University (among other institutions).
International Collaborations (Academic and Creative):
Since January 2019, Professor Sen has been a co-investigator in a collaborative project that advocates for better rural mental health infrastructure embedded in primary schools affecting children and families in ethnic minority communities, specifically in the Darjeeling district in the Eastern Himalayas. Through Dr. Sen's involvement, University of Houston is now a partner with universities and non-profits in USA and India that are collaboratively advocating for more regional and culturally situated public education and advocacy practices for children's mental health. The project has already received funding from multiple public and private institutions. More information about this collaboration can be found here: https://globalchildmentalhealth.web.unc.edu/our-team/
Professor Sen is also the creator and collaborator of a scholarly and creative space devoted to transnational critical food studies: Gastrofeminist Collective. If you are interested in the collective's upcoming presentations, publication projects, and creative pursuits, please send an email to: gastrofeminist@gmail.com. Along with Professor Sen, lead collaborators in this project are Dr. Ishita Dey (South Asian University, New Delhi, India) and Dr. Sohni Chakrabarti (University of St. Andrews, UK).
Professional Service:
Professor Sen is the co-editor in chief of CAFÉ (Culture, Agriculture, Food and Environment), a journal of the Culture and Agriculture section of the American Anthropological Association https://anthrosource.onlinelibrary.wiley.com/journal/21539561 
She is also an editorial board member of the journal Feminist Anthropology https://anthrosource.onlinelibrary.wiley.com/hub/journal/26437961/editorial-board/editorial-board 
Since 2012, she has served on the American Association of University Women's (AAUW's) national fellowship review team. Previously she served as Treasurer and Executive Council Member of the Association for Nepal and Himalayan Studies. She is a member at large for the Association for Feminist Anthropology (American Anthropological Association) 
She co-chaired Kennesaw State University's Presidential Commission on Race and Ethnic Diversity for more than three years before joining UH.
Teaching and Mentoring:
Professor Sen's critical pedagogy draws from her academic training in educational institutions in India and USA to include theoretical and methodological perspectives that question the canon of contemporary Anthropology. She is an unabashed advocate for women and minority scholars in academia and takes a keen interest in mentoring work in her communities of practice. Her PhD and MA students have found positions in reputed academic institutions and non-profits. At present she continues her work of training and guiding students as Director of for the MA Anthropology Program at UH-CCS. 
Courses at UH: ANTH 4310: Theories of Culture; ANTH 3342: Food and Culture; ANTH 3391: Global Ethnographies of Labor. Forthcoming: ANTH 4313: Feminist Ethnography
Special topics: Anthropology and International Development; Special Topics: Transnational Himalayas: Culture, Power, and Everyday Sustainability
Other UH Affiliations:
Affiliate Faculty, India Studies Program (IS)
Affiliated Professor, Asian American Studies Center (AASC)
Program in Women's, Gender, and Sexuality Studies (WGSS); African American Studies (AAS)